Florida Marlins' Manny Colón is Major League Baseball's First Latino Travel Secretary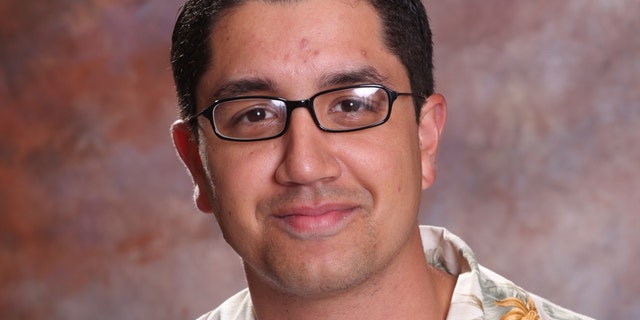 For Manny Colón, the traveling secretary for the Florida Marlins, a lifetime journey from California to Puerto Rico to Tennessee landed him in his own Field of Dreams.
Colón, an integral part of the Marlins front office brass, is the first Latino to hold such a position in Major League Baseball history. At 32, he is the second youngest person to hold one of the most sought-after, off-the-field positions in baseball – a gig he refers to as the "ultimate job for any baseball fan."
"Latinos have really just started making an impact in MLB front offices in the last 20 years," Colón said. "We don't just play the game. You don't just have to be an athlete on the field to follow your dream. It is what Roberto Clemente wanted."
Setting up hotel contracts and charter accommodations for more than 50 players and staff only scratches the surface of the long list of responsibilities for the team's new director of team travel.
Before every road trip, to nearly every major city in the United States, Colón must tend to every last detail. He sets up rental cars for players, coordinates family and friends stadium tickets, player weekly per diems, and even gives out player paychecks. He then must coordinate trucks that transport equipment to the clubhouse, and buses to bring staff, players and their bags to the hotel.
"The scariest thing is I don't want to forget a player," he said. "Guys come up and down in the Major Leagues the whole year. If I'm not on top of it, I can forget a guy's hotel room, a guy's per diem. And that's pretty embarrassing."
The Puerto Rican's career in baseball started in 2002 as a marketing intern. He was hired full time as a player relations assistant the following year. Colón subsequently made the jump up to the Major Leagues – along with ballplayers like Dontrelle Willis, Miguel Cabrera and the new coaching staff of the would-be 2003 World Series champion Marlins.
That was then. Today, Colón is in many ways no different than this year's young and vibrant Marlins ball club.
"I'm in the clubhouse all the time," Colón said. "The players tell me, 'You're one of us. You just do the travel.'"
After becoming a full time staff member, he was later promoted to player development. That's when he began overseeing administrative day-to-day operations of all six farm teams in the Marlins system. It is also where he forged relationships with some of the team's top prospects, like Mike Stanton, Logan Morrison and Chris Coghlan, who now form baseball's youngest outfield.
"I've known these guys through the minor league system," he said. "I have [had] relationships with these guys since they were 16 years old. They trust me and they've seen me operate."
The Book That Changed Everything
Most ballplayers dream of making it to the majors. But for Colón, who played center field at his high school in Clarksville, Tennessee, he also knew that ultimately he wanted to work in the front office.
"I was a lucky ballplayer," he said of his skills. "But I knew in high school that I wanted to be the guy making moves off the field."
Raised in a military family, Colón's father spent more than 20 years in the U.S. Army. Born on a military base in Monterrey, California, his love for travel started very young. While primarily raised in Tennessee, he has lived in Germany, Kentucky and Italy.
"The way I think, the way I operate, is all based on growing up as a traveler," he said.
A self-proclaimed "Country-ican," for his love of Garth Brooks music and the south, Colón has been in and out of Puerto Rico since he was about 5 years old. And every summer for the following seven years, his get-aways on the Caribbean island were spent at his grandfather's coffee plantation.
During one of those summers, Colón was so determined to get into baseball that he willingly volunteered himself, to no avail, to every professional baseball team in Puerto Rico.
It wasn't until a family connection, when Colón was 15, gave the youngster a chance to meet current Marlins manager Edwin Rodríguez, who then was working with the Carolina team in Puerto Rico. After the game, Colón met with Rodríguez on the field, where the then-third base coach gave him a book entitled "Baseball and Billions."
The book would change his life.
"He told me to read the book by Andrew Zimbalist ," Colón said of Rodríguez. "He told me he saw the energy in me and said that if I was able to come to Puerto Rico to work for free, then I would be fine."
Since then, the two kept in contact and Rodríguez became one of Colón's mentors.
"He was a big influence in my career. He told me to accept the intern position and just get your foot in the door. He said, once you get in, you'll move around and I kept in contact," Colón said.
Today, Colón is tasked with replacing one of the most respected people in the industry, Bill Beck. Since the organization's first season in 1993, Beck had been the teams senior director of travel.
"I can't replace him, but I am going to bring different things to the table," he said of Beck. "Ultimately, it's impossible to physically replace a legend, but I can work production wise."
Colón is happy, and while he's not settling at this stage of his career, he's found a new comfort zone as traveling secretary.
"If I would have known this job was so nice, I would have lined it up a while ago," he joked.
He thinks any kid can make their dreams come true on and off the field.
"Keep your dreams," he said. "I was just a small town boy from Clarksville, Tennessee, and now I am traveling with a Major League Team!"
If you know an extraordinary member of your community, tell us about it at editorial@foxnewslatino.com.
Follow us on twitter.com/foxnewslatino
Like us at facebook.com/foxnewslatino