Diego Luna, Javier Sicilia Lend Star Power to a Petition Against Arms Trafficking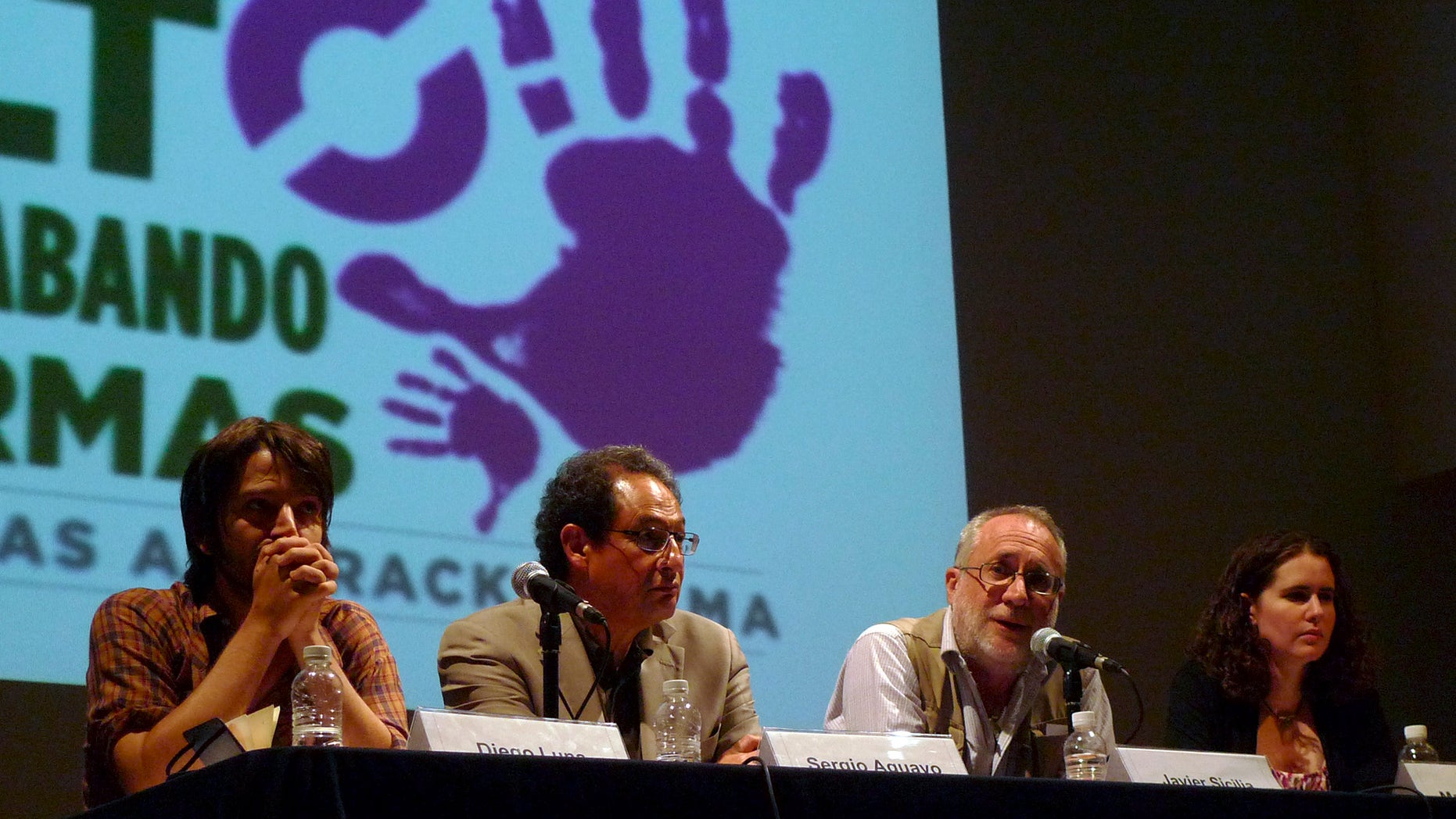 A group of U.S. and Mexican organizations joined forces Thursday to back a binational petition asking President Barack Obama to do more to halt the flow of weapons into Mexico and into the hands of organized crime.
Mexican actor and director Diego Luna formally launched the petition in Mexico City, alongside Javier Sicilia—the Mexican poet who who lost his 24-year-old son to drug violence in March and who has become the face of a nationwide anti-violence movement—and organizations on both sides of the border working for greater gun control.
Luna said he sees the petition as the result of a need "to connect with our neighbors in the face of a war that doesn't look like it will end any time soon."
The petition outlines three requests: that the president reinstate a ban against the U.S. importation of assault weapons (which often find their way into Mexico); boost the regulatory capacity of the Bureau of Alcohol, Tobacco, Firearms and Explosives (ATF) especially in the border states; and order gun dealers to report to ATF any sales of multiple assault rifles to a single buyer over a five-day stretch.
Obama in July took that third step; the National Rifle Association promptly sued.
Arms trafficking has played a role in the deaths of more than 34,000 people who have been killed in drug violence in Mexico since 2007. Mexican authorities routinely collect high-powered weapons following firefights with cartels or in raids.
In a single instance in April, Mexican federal police uncovered a stash in Ciudad Juarez—just across the border from El Paso, Texas—containing three anti-aircraft guns, a grenade launcher and dozens of grenades, as well as several makes of machine guns and 26,000 ammunition cartridges.
The buying and selling of guns in Mexico is highly restricted. Mexicans can apply for a hard-to-get hunting license and, if approved, can possess a limited number of firearms; licensed private security guards can also carry a gun. Otherwise, owning a weapon is against the law.
So the vast majority of weapons in Mexico have found their way in illegally. Of the 29,284 firearms recovered in Mexico in 2009 and 2010 and traced by ATF, 70 percent were either manufactured or imported to the U.S., according to the U.S. Government Accountability Office.
Most of those could be traced to just three border states: Texas (39%), California (20%) and Arizona (10%).
"We are looking to create safer communities in both countries," said Maureen Meyer, a Mexico analyst with the Washington Office on Latin America, which is backing the petition along with the Brady Campaign, Violence Policy Center and others. "It's a bilateral initiative because arms-driven violence affects both countries."
The petition is a vote of confidence for the embattled ATF, which was recently revealed to be smuggling weapons into the arsenals of drug traffickers in Mexico as part of a sting code-named "Operation Fast and Furious."
"I don't think there is anyone in this country who doesn't want this war to end tomorrow," Luna said. "It doesn't matter in what you believe or which side you are on. I think that we all agree on this point, no?"
Lauren Villagran is a freelance journalist in Mexico City.
Follow us on twitter.com/foxnewslatino
Like us at facebook.com/foxnewslatino