Cristina Fernández Begins Second Presidential Term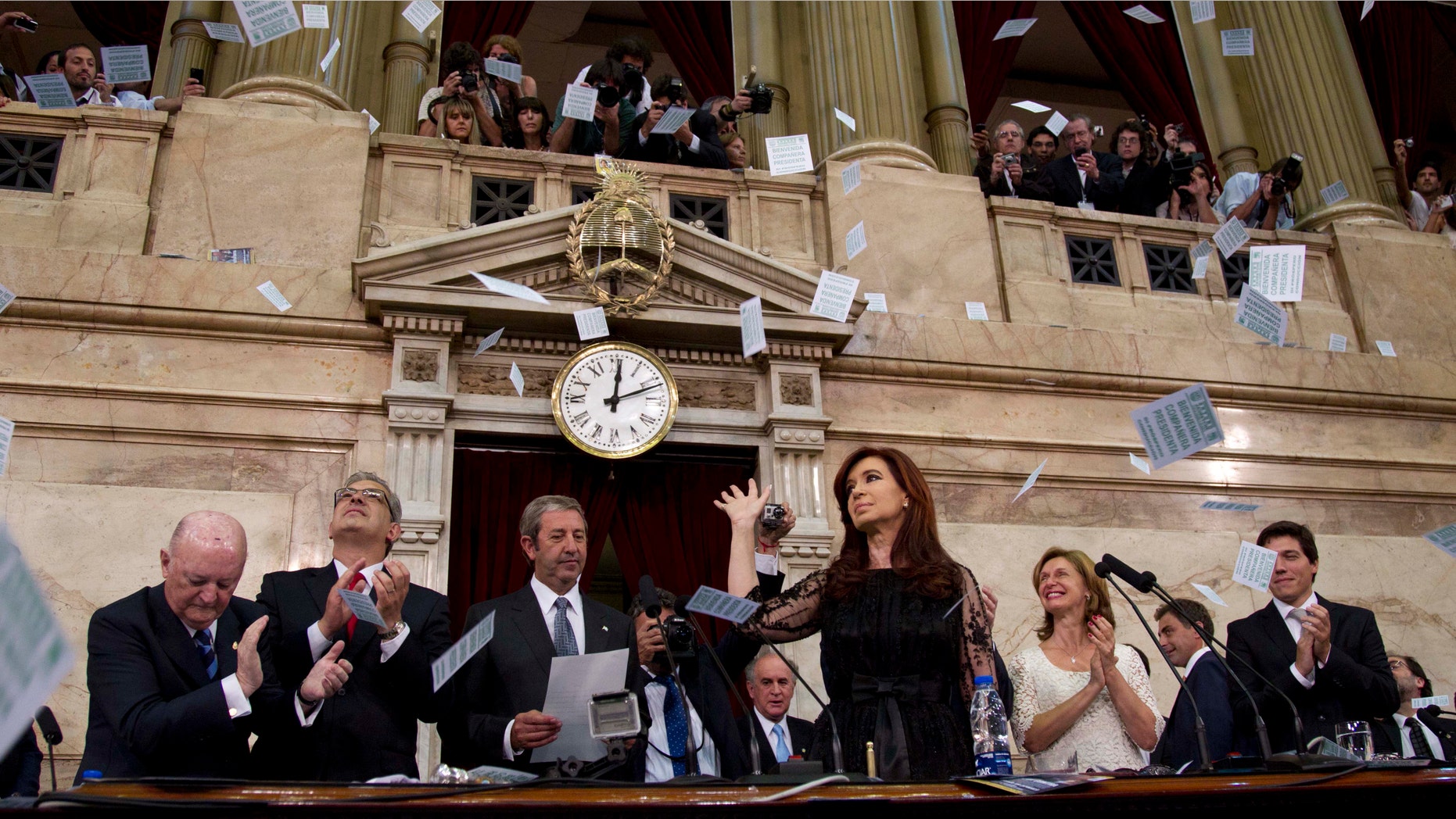 Cristina Fernández begins a second 4-year presidential term Saturday at the top of her game, having won a landslide re-election and overseen stellar economic growth, yet she will soon have to make some tough, and risky, choices.
Argentina's 40 million people are facing economic uncertainty, and the big question for the 58-year-old leader is whether to continue the government spending and price controls that worked so well in her first term.
Cutting public spending to prepare Argentina for a dicier economic climate could bring political harm, so Fernandez is expected to try to strengthen the economy without cutting social programs dear to her base.
As Fernández accepts the silver-and-wood presidential baton, she faces the immediate task of slowing the flight of capital. Some $18 billion was spirited out of Argentina by foreign and domestic investors in the first nine months of this year, much of it on the prospect of her widely anticipated re-election. That's nearly double the total capital flight in all of 2010.
Fernandez also must grapple with inflation estimated to top 20 percent a year, as well as a global economic slowdown that has hurt growth in key trading partners such as Brazil and China while sucking capital out of developing countries, including Argentina, as investors seek safe havens.
The center-left president has already proved to fellow Argentines that she can rule without the help of her husband, former President Nestor Kirchner, whose death from a heart attack in October 2010 stunned the country. Many people viewed Kirchner as his wife's principal political and economic adviser after he stepped aside to let her run.
During the eight years of the couple's presidential terms, Argentina's economy grew by an annual average of 7.6 percent.
"Now, it's up to Cristina to adjust the pegs of a model that brought to 'Kirchnerism' eight long years of growth, an increase in pensions, a drop in unemployment and a boom in consumption," said political analyst Ignacio Fidanza.
Since winning re-election Nov. 23, Fernández has already taken dramatic first steps to protect Argentina's gains.
She has cut more than a billion dollars worth of utility subsidies to companies and to residents of wealthy neighborhoods around the capital of Buenos Aires, as well as government offices. Economists have long suggested cutting subsidies to shrink what they said has been excessive government spending.
Fernández has also shown some willingness to talk about Argentina's high inflation, which has been a sore point for the government. Official figures say inflation hit an annual rate of 8 percent in the first 10 months of this year, but economists estimate the actual figure is nearly triple that number.
The government even went so far earlier this year as to sue private economists who were publishing their own, higher inflation estimates.
Some political experts say Fernández will have to make some wholesale changes to her strategy, which will mean building consensus with sectors outside her leftist base while softening what's been called her stern governing philosophy.
Cutting public spending will also mean persuading her union supporters to accept smaller pay raises. That has already generated tension with some labor leaders, who formed a key part of the political base for Fernández and Kirchner.
Fernández brings to the task more power than any Argentine president has enjoyed in recent history as she negotiates with a weak, fragmented opposition. She and her allies will control the Congress and a majority of the country's 24 provincial governments.
Economist Aldo Abram, director of the Freedom Foundation in Argentina, said favorable international conditions, such as high prices for soybeans, wheat and other Argentine exports, explain the country's growth rather than any government policies.
Echoing the view of many foreign investors, Abram predicts Fernández's policies will prove unsustainable as inflation and public spending overwhelm government measures designed to continue growth.
On top of that, nearly $4 billion in foreign debt comes due this month, with an additional $15 billion due in 2012.
At the top of many people's minds is Argentina's 2001-2002 economic collapse, which sent the poverty rate soaring above 50 percent and saw the country suffer a record default on about $100 billion in debt.
"In this second administration, the government is going to have to pay all the costs of the disasters that were done in previous terms," Abram said.
Jorge Taiana, former foreign minister under both Fernández and her husband, said the president is not likely to make any major changes to her interventionist economic approach, though "if we enter a more difficult phase from the international point of view, they'll make the adequate corrections."
As a possible sign of things to come, Fernández announced a Cabinet on Tuesday that remained largely unchanged from her first administration.
She has cause to feel confident about her strategy so far. She won re-election with the biggest vote share since President Juan Perón captured 62 percent of ballots in 1973. Her closest rival, Santa Fe Gov. Hermes Binner, came in 37 percentage points behind.
Since then, Fernández has stepped up her defense of Argentina's claims to the British-controlled Falkland Islands, including threatening to disrupt supply flights from Chile that cross Argentine airspace.
The bulk of her support comes from the working classes, who have received pay and pension increases as well as more public aid under her government.
She's also continued evoking the legacy of her late husband, whose death sparked enormous public sympathy at a time when her presidency had been losing support. Fernandez paid homage yet again to her husband last week while accepting a portrait of Kirchner that Venezuelan President Hugo Chávez said he had himself painted.
"It's impossible for me to sidestep something that for me is very important and that exceeds institutional things and that has to do with ... emotions, with feelings," Fernandez was quoted as saying.
Argentine writer Beatriz Sarlo said those looking for a different approach will be going up against a powerful obstacle: the success of Fernandez and her husband over the past eight years.
"It's difficult suggesting to a winner that they change the ways they used to arrive at the place where they are," Sarlo said. "The electoral numbers don't allow changes. Victory brings certain rights."
This is based on a story by The Associated Press.
Follow us on twitter.com/foxnewslatino
Like us at facebook.com/foxnewslatino