Court orders arrest of Pakistani prime minister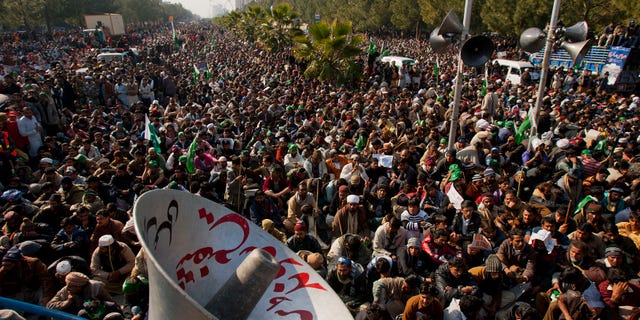 ISLAMABAD – Pakistan's top court ordered the arrest of the prime minister in a corruption case Tuesday, the latest clash between the government and a judiciary that has repeatedly pressured the country's political leaders.
The ruling is sure to inflame the already antagonistic relationship between the court and the government, pushing the country toward yet another political crisis. It also could provide ammunition to Tahir-ul-Qadri, a firebrand Muslim cleric who was leading tens of thousands of people in a second day of rallies in Islamabad to press for the removal of the government, which he criticized as corrupt and indifferent to the common man.
The Supreme Court order against Prime Minister Raja Pervaiz Ashraf was related to a case involving private power stations set up to provide electricity to energy-starved Pakistan. The judges are investigating allegations that the bidding process was marred by corruption.
Chief Justice Iftikhar Chaudhry ordered the arrest of 16 people involved in the case, including Ashraf, who previously served as minister for water and power, said the written court order.
An adviser to the prime minister, Fawad Chaudhry, said any attempt to arrest the prime minister would be unconstitutional since he enjoys immunity from prosecution while in office.
"We consider it a judicial coup, and it is part of a greater plan to derail democracy," Chaudhry said.
The Supreme Court clashed repeatedly with the government over the last year, especially over an old corruption case against President Asif Ali Zardari in Swiss courts. Pakistan's top court convicted Ashraf's predecessor, Yousuf Raza Gilani, of contempt of court for refusing to reopen the case and ousted him from office.
The judges pressured Ashraf as well, and the government finally agreed to the court's demand to ask the Swiss to pursue the case -- which Swiss authorities have said privately they have no intention of doing because Zardari enjoys immunity while in office.
It was unclear whether there was any connection between the Supreme Court's order and Qadri's rally. But some speculated it was a scripted one-two blow by the chief justice and the cleric to strike at their opponents in the government.
Qadri has seized on alleged corruption by Pakistani politicians to rally support for his protest against the government. The cleric rocketed to national prominence after his return from Canada late last year, and his message has galvanized many Pakistanis who say the government has brought them only misery.
But critics fear that Qadri and his demands for election reforms may derail the country's upcoming democratic elections, possibly at the behest of the country's powerful military -- allegations denied by the cleric.
Those concerns could intensify following a fiery speech he delivered to protesters Tuesday in which he condemned the country's politicians as corrupt thieves and lavished praise on both the Supreme Court and the military, which has a history of toppling civilian governments in coups.
He said there are only two institutions in Pakistan that "are functioning and performing their duties to fulfill the needs of the people."
"One is the judiciary of Pakistan, and one is the armed forces of Pakistan, and nothing else," said Qadri.
The 61-year-old cleric spoke from inside a bulletproof vehicle parked several hundred meters (yards) from parliament, facing hundreds of police in riot gear who formed a human barrier against at least 30,000 demonstrators packed into the main avenue running through Islamabad. Many waved green and white Pakistani flags and cheered as Qadri spoke.
The determination of the marchers and organizers has thrust them into direct confrontation with the government, which has strongly opposed the rally.
The protest has been largely peaceful ever since demonstrators set off from Lahore on Sunday, but the underlying tension was evident early Tuesday morning when police and protesters clashed hours after Qadri arrived in Islamabad and addressed his supporters. Demonstrators threw rocks at a vehicle, while others held up bullet casings and an empty tear gas canister.
Qadri called on his supporters to stay in the streets until the national and provincial governments were dissolved, saying lawmakers were focused on lining their own pockets rather than addressing the problems of common citizens.
"The lawmakers are the law breakers," said Qadri.
Many supporters have pledged to remain in Islamabad for as long as Qadri demands. They brought blankets to ward off the cold, and many slept in the street Monday night.
Qadri maintained that his movement was not anti-democratic, but he criticized the current political system as broken. Many of his recommendations to fix it, such as rooting out corruption and incompetence, seem more aspirational than grounded in specific details. He has issued numerous vague demands, such as vetting political candidates to make sure they're honest and restructuring the system so that the common people have more opportunity to take part in politics.
His anti-government barbs have hit home with many Pakistanis. Five years after Pakistan's return to democracy from military rule, many are furious at the power outages, terror attacks and unemployment that continue to plague them.
"This system has rotted. It has to change," said 29-year-old Iftikhar Ahmad, who traveled to Islamabad from the central city of Sargodha. "I am going to stay here ... even if I die."
Many protesters like Saqib Sultan, from the eastern city of Lahore, brought their families and slept on the road.
"My wife is here with me, my children are here, and I am here," he said. Like many others, he vowed to stay until their demands are met and called this "the last chance to save Pakistan."
One city official put the number of protesters at roughly 30,000. He did not want to be identified because he was not authorized to speak to the media.
Some of Qadri's reform proposals have sparked concern that the cleric is being used as a front for the Pakistani military to derail the upcoming vote, just as the country prepares for its first transfer of power from one civilian government to another.
Qadri has called for a military role in picking the caretaker government that will take over temporarily ahead of elections, and has said it could stay in place longer than normal to enact necessary reforms.
Qadri's apparent rise to a national political force in a matter of weeks since his return from Canada have also raised questions about whether he's been getting outside funding.
The government has painted Qadri as a menace to the country's fragile democracy. Chaudhry, the prime minister's adviser, said Qadri's demands are a revolt against the state.
"Thirty thousand people cannot be allowed to take hostage 180 million people," he said.