Chile Celebrates Second Anniversary Since Rescuing 33 Miners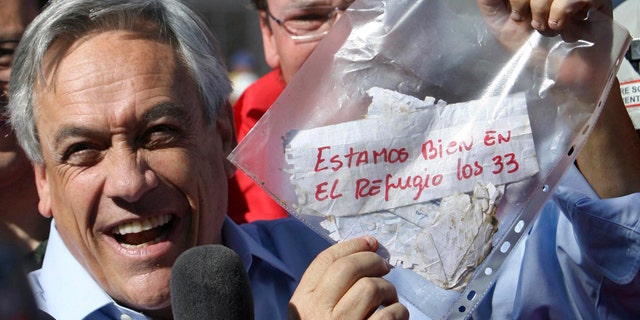 It's been two years since Chilean authorities rescued a group of 33 miners who grabbed the world's attention when they became trapped a half-mile below the Atacama desert for 69 days.
President Sebastian Pinera is in the northern city of Copiapo to join the miners Sunday at the mouth of the San Jose copper mine that nearly became their rocky grave. They will unveil a five-meter cross as part of a monument known as the "The 33 miners of Atacama: The miracle of life."
Before anyone knew that they had survived the collapse, the 33 stretched their meager store of emergency food for 17 days, eating tiny capsules of tuna and sips of expired milk.
The desperate workers even discussed the possibility of cannibalism in the first days of the ordeal.
"It was kind of who died first, that's where we were, he who died first ... the rest will go there, like the little animals," Samuel Avalos said in a documentary aired on Chile's TVN public television network
The miners were received as heroes after their globally televised rescue mesmerized millions worldwide. But many still suffer from health and psychological problems, and some have struggled to make ends meet despite becoming famous.
Omar Reygadas, 57, told The AP last year that nightmares still keep him up.
"I try to read, to tire myself out so that I can sleep well," Reygadas said. "But if I'm alone in a closed space, it still makes me anxious — I have to get out and find someone to talk with or distract myself with something."
Based on reporting by the Associated Press.
Follow us on twitter.com/foxnewslatino
Like us at facebook.com/foxnewslatino