Bus collides with truck on Mexico highway; 36 reported dead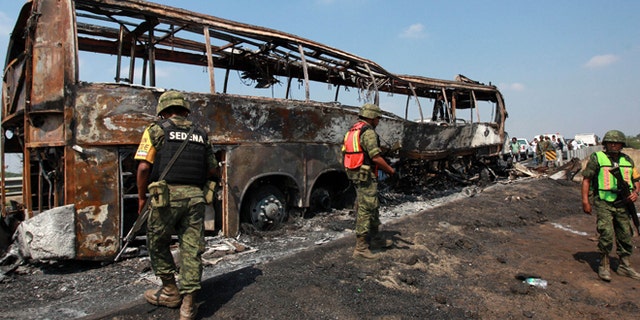 VERACRUZ, Mexico – A passenger bus slammed into a broken-down truck and burst into flames, killing at least 36 people Sunday in southern Mexico, the Veracruz state government reported.
Both state and federal officials said that four people survived the crash, which occurred shortly after midnight in the southeastern state of Veracruz.
A communique from the state civil defense agency said the victims were business people from the region who were travelling from the Tabasco state capital of Villahermosa to Mexico City.
The agency's emergency director, Ricardo Maza Limon, said the victims apparently burned to death inside the bus, which was so badly charred that the tires melted and the markings on its sides were unreadable.
The federal highway department, which earlier gave the death toll as 34, said the three-axle bus was on a highway in the area of Acayucan when it struck a five-axle tractor-trailer owned by a milk protein company that had broken down and was parked along the roadside.
Via Twitter, Mexican President Enrique Pena Nieto sent a message of condolences to the families of those who died.
The state government of Tabasco said it was setting up an attention center for the families of the victims, some of whom were suffering from nervous crises. The center's operations coordinator, Dr. Teresa Hernandez Marin, said the center will provide social workers, psychologists and psychiatrists to help people.
Hernandez said experts will start identifying the bodies overnight, using DNA tests when necessary.