Bangladesh indicts 41 on murder charges in 2013 factory fall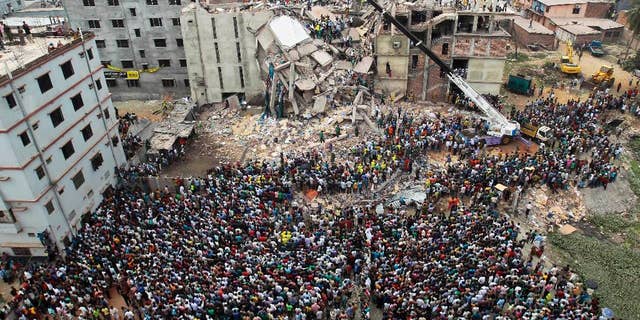 NEWYou can now listen to Fox News articles!
DHAKA, Bangladesh – A Bangladesh court has indicted 41 people for murder in the 2013 deaths of more than 1,100 people in the collapse of a building that housed five garment factories outside the capital.
District Judge S.M. Kuddus Zaman announced Monday that the trial in the Rana Plaza collapse will begin Sept. 18.
Masud Rana, who owned the building outside Dhaka, and 33 other people pleaded not guilty when the charges against them were read out in court.
Another seven are accused of absconding. If convicted, the defendants could face up to death penalty.
A police report submitted to the court called the deaths a "mass killing."
Bangladesh is one the world's largest exporters of garments. It earns around $20 billion a year from exports, mainly to the United States and Europe.