Australian parties remain neck and neck as election looms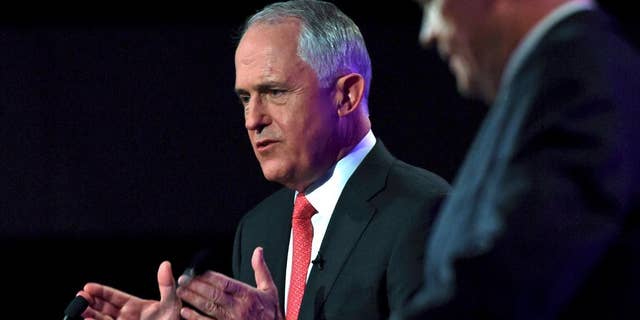 NEWYou can now listen to Fox News articles!
CANBERRA, Australia – Midway through a national election campaign in Australia, Prime Minister Malcolm Turnbull's honeymoon with voters continues to wane, raising the prospect of the country having its fifth leader in just over three years.
Opinion polls suggest the conservative coalition government remains neck-and-neck with the center-left Labor Party opposition since the July 2 election was officially called early last month, despite efforts by both sides to break out with a range of policy announcements.
"People aren't particularly engaged, neither leader particularly excites the people," Deakin University political scientist Geoff Robinson said.
The ruling Liberal Party enjoyed a bounce in opinion polls last September when it replaced Tony Abbott, a gaffe-prone and socially conservative leader, with the more progressive Turnbull, but voters now appear increasingly disenchanted with the former merchant banker who came to power by agreeing with party powerbrokers not to shift his government to the left on policies, including on climate change and gay marriage.
Turnbull, 61, declined to comment on the polls that show him slipping as Australians' preferred choice as prime minister, while his rival, Labor leader Bill Shorten, inches up.
"I am not going to be drawn into that kind of introspection," Turnbull told Australian Broadcasting Corp. television late Wednesday. "My job is to focus on the needs of Australians."
Bill Shorten, a 49-year-old former labor union boss, boasted during a television debate with Turnbull last month of the unity Labor lawmakers have shown under his leadership while government lawmakers who backed Abbott openly criticize the prime minister.
"There's a big difference between me and Mr. Turnbull, I genuinely lead my party whereas your party genuinely leads you," Shorten said.
But while Turnbull has alienated many voters, he remains more popular than Shorten, who is dogged by his role as a party powerbroker who helped bring down two prime ministers during Labor's last chaotic rule from 2007 until 2013.
A poll by Sydney market research Galaxy Research published on Monday found that voters were evenly split between the government and Labor, while the proportion of respondents who preferred Turnbull to Shorten as prime minister had fallen 10 percentage points since early March to 45 percent.
Shorten improved his standing as preferred prime minister by 6 percentage points to 30 percent.
The poll was a nationwide survey of 1,867 voters and had a 2.4 percentage point margin of error.
But Liberal and Labor strategists agree that the ruling party is ahead in the crucial swing seats that decide elections.
Australians don't directly elect their prime minister. They vote for members of the House of Representatives, and the leader of the party that wins a majority becomes prime minister. Having a popular leader is key to achieving that majority.
Election campaigns are short in Australia, although at eight weeks the current one is slightly longer than normal.
The ruling party has been arguing that its policies will create jobs and economic growth as Australia transitions from a mining boom that has passed, while Labor emphasizes fairness and promises increased funding for medical care and education.
Both the government and opposition promise their policies would return the budget to a surplus in the 2020-2021 fiscal year. Many economists argue that whoever wins will need to make deeper spending cuts if Australia is to retain its triple-A credit rating.
Robinson said part of the reason for the new era of political volatility is that Australians have come to expect prosperity in the 24 years since the last recession, and are frustrated by Australia's slowing economy and stagnant wages.
"Voters ... are accustomed to a long period of prosperity, and politicians have been struggling ... to come up with something to respond to that," Robinson said.