As Latinos nationwide rise out of poverty, those in Nebraska fall deeper into it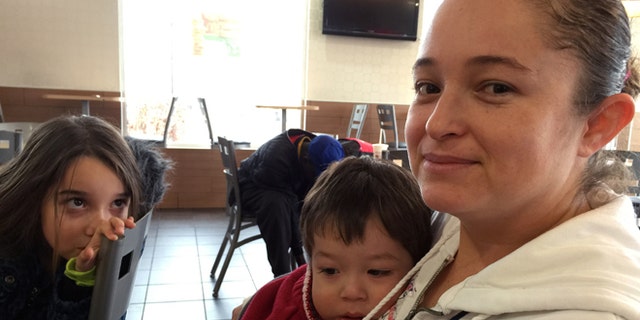 LINCOLN, Nebraska – Claudia Felix cleans homes for minimum wage, and her husband picks up construction jobs when he can. Over the years, they have flitted in and out of poverty, depending on how much work they can find.
When there is little money for groceries, they seek help from a food bank in Nebraska's capital city of Lincoln. Last month they spent an afternoon at a local charity picking out toys and Christmas gifts for their three children, ages 1, 9 and 17.
"What can you do?" she said through her 17-year-old son, Sergio. "It's hard to find a job. And when you can't speak English, it is even more difficult."
As the nation's economic recovery takes hold, some Latino families in the country's heartland are being left out — despite an overall decline in the national poverty rate.
We're still in a situation where incomes have stagnated, especially in lower-skilled jobs. Even if a person is working, they might not have the income to get above the poverty line. We're talking about the so-called working poor
According to an analysis conducted last fall by the Pew Research Center, the national poverty rate among Hispanics fell from 25.6 percent in 2012 to 23.5 percent a year later. At the same time, Hispanics earned 3.5 percent more money.
The rosy national numbers are in stark contrast to rising poverty levels among Nebraska's Hispanic population.
Nearly 28 percent of Nebraska Latinos live in poverty — up from 20 percent in 2000, according to federal estimates.
"That's a sizeable growth over that time period," said David Drozd, a demographer with the Center for Public Affairs Research at the University of Nebraska-Omaha.
"The trend has been a consistent and steady rise, and it hasn't shown any signs of slowing," he told Fox News Latino.
"We're still in a situation where incomes have stagnated, especially in lower-skilled jobs. Even if a person is working, they might not have the income to get above the poverty line. We're talking about the so-called working poor," Drozd continued.
Earlier this month, the state's minimum wage rose to $8 an hour from the federal minimum of $7.25 an hour — and will rise to $9 in 2016.
The modest raise in the minimum wage is unlikely to pull Nebraska's working poor out of poverty.
"Wages have not kept up," said John Griffith, the executive director of Catholic Charities of the Archdiocese of Omaha. With the higher minimum wage, he said, "we certainly hope some of those families that have been held back will [be able to] afford a higher standard of living. People need a living wage."
But even with modest raises, the need remains high. The two food banks Catholic Charities operates in Omaha, Nebraska's largest city, are busy. The number of people seeking help is more than 70,000 a year, up from about 68,000 in 2011 – proof, he said, of just how entrenched poverty remains in some communities.
Nevertheless, the increase in the minimum wage will help Felix with her family's day-to-day struggles of putting food on the table, gas in the car and some money into savings.
"Maybe I can pay off bills. Or I can afford to buy new clothes and shoes for my kids. Maybe we can eat out once a week," Felix said.
She and her husband moved to the U.S. from Mexico 17 years ago to start a family and to find a better life, first in Phoenix then moving to Nebraska 8 years ago – partly to get away from the political turmoil over immigration in Arizona.
"Nebraska is much more peaceful – very cold, but more peaceful," she said.
Mrs. Felix found a job cleaning offices, starting at $6.25 an hour, then the minimum wage.
Her husband makes about $10 an hour when he can find work at construction sites, she said. The money helps. But it isn't always enough.
She reminds her son that you can grow up poor and you can make something of yourself.
"I want them to have careers," Felix says of her children, "so they don't suffer like me cleaning bathrooms and floors."
Sergio, a senior in high school, aspires to attend the University of Nebraska-Lincoln, but he knows his future is at the mercy of a lot of different factors.
"Right now, I just want to finish high school. Maybe later, I'll find a good job that will help my parents pay bills," he said.
Many immigrant Latinos don't have the education and skills to land better-paying jobs, noted Arturo Spindola, executive director of Nebraska's Latino American Commission.
"The way to get out of this cycle of poverty from one generation to the next – the only way to escape it – is through education," he told FNL.
Spindola wants policy makers to take a deeper look at the causes of poverty and find ways to alleviate the woes of the working poor – and he dismisses the notion that the answer lies solely in tightening borders and revamping the country's immigration policies.
"You can seal Nebraska's borders and don't let anybody come in we don't want to, but what would happen to our work force?" he asked, voicing the refrain that Latino immigrants are necessary to fill jobs many white Americans don't want. What are you going to do when you need labor? Where are you going to go?"
"As the largest minority population in Nebraska, Latinos will undoubtedly influence the economic output of Nebraska," he said. "But unfortunately, Latinos have been left behind."