With a taste of home, Nebraska becoming hub of more Latino-owned businesses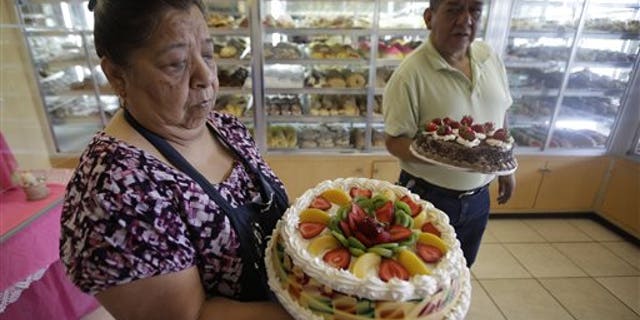 LINCOLN, Neb. (AP) – The cream cheese croissant with apricot glaze is Andy Arza's favorite pastry from his family's bakery.
His dad, Cesar, loves the Danish and the Salvadoran bread, which is much like a pound cake.
Cesar Arza owns Pan Dulce, a Hispanic bakery in Lincoln at 801 S. 11th St. And now, the family has opened a second Pan Dulce at 505 N. 27th Street, the Lincoln Journal Star reported.
The family is among a growing number of Latinos in Nebraska who are business owners, catering to all types of clients and customers.
Even though they are a small percentage of businesses, it is a growing trend, said Lissette Aliaga-Linares, researcher with the Office of Latino/Latin American Studies at the University of Nebraska at Omaha.
"More Latinos are becoming business owners," Aliaga said.
In 2007, there were about 3,000 Latino-owned businesses in Nebraska, she said. And she believes the number has gone up since then, along with the population of Latinos in the state.
Aliaga appeared before the Legislature's Planning Committee in October to fill senators in on what's happening with Latino businesses in the state. She acknowledges more research is needed.
The Office of Latino/Latin American Studies, at the University of Nebraska at Omaha, where Aliaga is a research associate, released a study of Latino business. But much of the statistics are from 2007.
There is not necessarily a "typical" story for Latino businesses.
Cesar Arzo came to Nebraska 13 years ago after his wife, Eva, visiting her sister in New York, also visited Omaha.
"My mom loved it, and thought it would be a good idea for us to come and vacation here," said Andy Arza, 25, the couple's oldest son.
The family, from Bolivia, came in 2001. His mom decided she would like her boys to go to school a short time to learn proper English, he said. And then they would return home.
"Then a year became two years and two years became three years," Andy said. "And we're here."
Cesar Arza, 51, worked eight years in Omaha managing La Flor de Mexico, a south Omaha bakery, before deciding to move to Lincoln to open his own.
He had majored in business management in Bolivia, and had experience managing hotels, and owning a restaurant and a beauty salon.
Andy Arza recently has started his own business, Three Tigers Construction, which specializes in roofing. The business is going well, he said.
Cesar Arza said the bakery business, too, has been good and growing year by year. An expansion to a second location was a good idea, he said.
Together, the bakeries employ about 10 people. Cesar, his wife and another son all work at the bakeries, which offer a variety of breads, pastries, cookies and cakes, for weddings, quincea±eras, birthdays and other occasions. They also sell to restaurants and wholesale.
In the Hispanic culture, Cesar said, bread is important. He keeps prices low, he said, because he likes the idea of people being able to try out a variety of items, without having to spend a lot of money.
Latino business owners are providing a better future for their families, Aliaga said.
"They are an important asset of their community, channeling upward mobility," she said.
The UNO study showed a few more than half of Latino-owned businesses in Nebraska were home-based and 17 percent were family-owned.
The Arzas were exceptions, but most Latino entrepreneurs stick with businesses within the sector they have been employed in, building from their experience, Aliaga said. These often include home child care, construction, cleaning services, clothing sales and soccer equipment.
Sometimes resident status makes it difficult for the business owners to expand. For example, those with temporary protected status have to have that status reviewed every 18 months.
"Some will delay expansion because of that," she said. "Uncertainty is something that is very high."
Also, an immigrant who comes to the United States as a worker, on an H1B visa, can open a business only as an investor, but cannot work in the business.
"It's going to be difficult for any person coming to the U.S. as a legal worker to open a business," she said.
Aliaga's study had several recommendations, including strengthening partnerships between organizations that work with business owners and community organizations that serve the Latino community.
Training services should also be expanded, the UNO researchers said.
Bilingual and bicultural staffs in government offices that serve these business owners should also be increased. And a pathway to a more stable migratory status for business owners, as well at the immigrant population overall, should be created, she said.
To open a business, Cesar Arza said, it takes a dream and a goal. From there, it takes a lot of discipline and constancy.
If you stay constant, he said, owning a business comes along and gets easier.
Like us on Facebook
Follow us on Twitter & Instagram