Lawsuit challenging Nebraska's denial to issue immigrant licenses back in court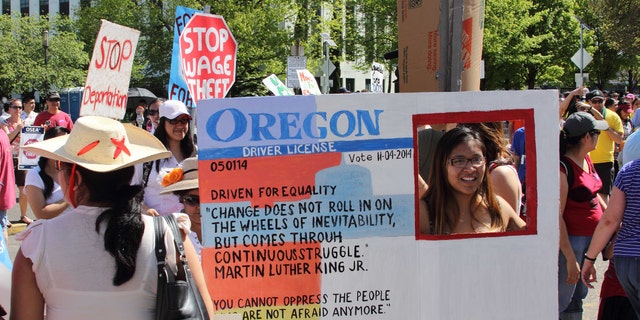 LINCOLN, Neb. (AP) – A federal judge has sent a lawsuit challenging Nebraska's practice of denying driver's licenses to some immigrants back to a state court, saying the lawsuit doesn't raise a definitive federal issue.
Chief U.S. District Judge Laurie Smith Camp on Friday issued an order rejecting the state's motion that declared the federal court as the best venue for the lawsuit, the Lincoln Journal Star reported.
Nebraska refuses to issue driver's licenses to participants in President Barack Obama's Deferred Action for Childhood Arrivals program, which was enacted in the summer of 2012. The program allows people brought to the U.S. illegally as children to work in the country, and protects them from deportation for two years.
The American Civil Liberties Union filed the lawsuit last year in Lancaster County District Court on behalf of four Omaha residents. The lawsuit says Nebraska officials violated state law that requires state agencies to go through a public hearing and comment period before making significant changes to state rules and regulations. It also says the policy also violates the state constitution's right to due process and equal protection.
"This court cannot conclude that plaintiffs' claim necessarily raises a federal issue at all, let alone one that is disputed and substantial," Smith Camp wrote in her order.
The ACLU of Nebraska lauded Smith Camp's ruling.
"This is an important procedural victory that will ensure the case can move forward without additional delay," said Danielle Conrad, executive director of the Nebraska ACLU. "The state's policy to discriminate against lawfully present young people is unacceptable."
Nebraska soon will be the only state not issuing licenses to those immigrants participating in the federal program. Earlier this week, the U.S. Supreme Court refused to block a federal appeals court ruling that ordered Arizona to start issuing the licenses to such immigrants.
Arizona has been ordered to begin issuing those licenses starting Monday.
Like us on Facebook
Follow us on Twitter & Instagram