Afghanistan presidential election in crisis after candidate pulls out of audit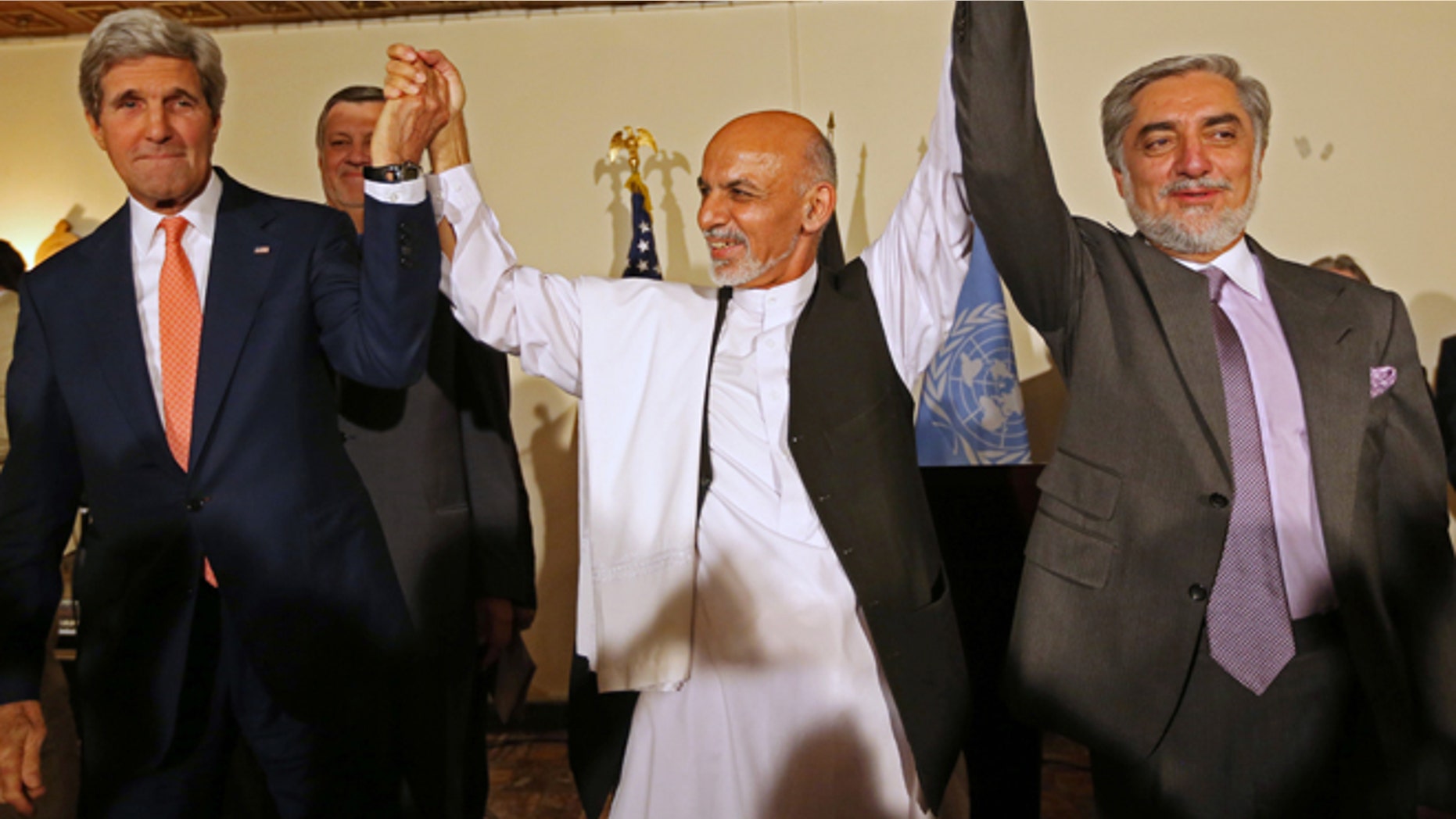 KABUL, Afghanistan – One of two men vying to become the president of Afghanistan, Abdullah Abdullah, pulled his observers Wednesday from an audit of the country's disputed election over concerns of widespread fraud in a move that throws the already contentious election into further crisis.
The U.S. brokered the audit of the eight million ballots from the country's June presidential runoff as a way to end what had been a debilitating impasse over who would take over from outgoing President Hamid Karzai. But the audit, which was announced in July, has proceeded in fits and starts as both sides have argued strenuously over every ballot.
Former Foreign Minister Abdullah is facing former Finance Minister Ashraf Ghani Ahmadzai in the election. Abdullah came in first during the first round of voting on April 5 but preliminary results from the June runoff showed Ahmadzai in the lead. That sparked accusations of rampant fraud from the Abdullah camp.
On Tuesday, Abdullah's camp threatened to boycott the audit if their concerns over fraud were not addressed. Then on Wednesday, the campaign followed through on its threat and pulled observers from the recount, which is being carried out in warehouses on the edge of the capital.
"It is full of fraud," said a spokesman for Abdullah, Fazel Sancharaki, who confirmed the decision to withdraw from the audit. "Nobody is paying attention to our demands."
A spokesman for the United Nations in Kabul, Liam McDowall, confirmed that there had been a "temporary pause" in the audit process but said monitors did not anticipate it would be a significant disruption. The U.N. has been helping supervise the audit along with Afghanistan's Independent Election Commission.
Abdullah's team, concerned that not enough ballots have been invalidated to correspond to the level of fraud they believe happened, would like the criteria for invalidation expanded.
The campaign's decision to drop its support for the ballot raises concerns about whether Abdullah's team and those who voted for him would consider any resulting government to be valid. That could have dangerous repercussions in a country still struggling to overcome ethnic and religious divides and battling a resurgent Taliban insurgency.
The election impasse has also hurt the country's economy, as customers worrying about the outbreak of civil war hold onto their money and investors put the brakes on new projects as they wait to see how the crisis unfolds. It has also delayed the signing of a new security pact with the United States that would allow a small number of troops to stay in Afghanistan past December.
Karzai, who has been trying to bring both sides together to overcome the impasse, met with the two candidates Sunday and again Tuesday after Abdullah's boycott threat. Karzai has said that the inauguration of the new president must happen by Sept. 2. That is just two days before NATO members are expected to meet in Wales.
Without a new president, it's unclear who would represent Afghanistan at a meeting that will discuss the military coalition's support for Afghan forces. A spokesman for Karzai, Aimal Faizi, said the president was not willing to go himself and that it was better to send the new president. Karzai has clashed with NATO over such issues as night raids and civilian casualties in airstrikes. The president has refused to sign an agreement allowing international forces to stay in Afghanistan past December.