Afghan President Says Talks with Taliban Useless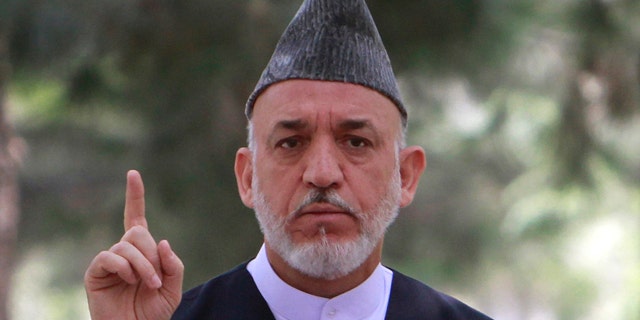 KABUL, Afghanistan-- Afghan President Hamid Karzai, who for years pushed for reconciliation with the Taliban, now says attempts to negotiate with the insurgent movement are futile and efforts at dialogue should focus instead on neighboring Pakistan.
The Afghan leader explained in a videotaped speech released by his office Saturday that he changed his views after a suicide bomber, claiming to be a peace emissary from the insurgents, killed former Afghan President Burhanuddin Rabbani at his home on Sept. 20. Rabbani was leading Karzai's effort to broker peace with the Taliban.
"Their messengers are coming and killing. ... So with whom should we make peace?" Karzai said in the recorded address Friday to a gathering of the nation's top religious leaders.
"I cannot find Mullah Mohammad Omar," Karzai said, referring to the Taliban's one-eyed leader. "Where is he? I cannot find the Taliban council. Where is it?
"I don't have any other answer except to say that the other side for this negotiation is Pakistan," Karzai said.
Most of the Taliban leadership is thought to be living in Pakistan, and its governing council -- known as the Quetta Shura -- is based in the southern Pakistani city of the same name. It has long been believed that the Pakistani government has sheltered and influenced the group.
Last week, U.S. officials accused Pakistan's spy agency of assisting the Haqqani network -- a group of militants allied with al-Qaida and the Taliban -- in attacks on Western targets in Afghanistan. It was the most serious allegation yet of Pakistani duplicity in the 10-year war.
The Pakistan-based Haqqani network has been described as the top security threat in Afghanistan.
NATO said Saturday it captured Haji Mali Khan, a senior Haqqani leader inside Afghanistan, describing his arrest as a "significant milestone" in disrupting the terror group's operations.
The group has been blamed for hundreds of attacks, including a 20-hour siege of the U.S. Embassy and NATO headquarters last month.
The United States and other members of the international community have in the past accused Pakistan of allowing the Taliban, and the Haqqanis in particular, to maintain safe havens in the country's tribal areas along the Afghan border -- particularly in North Waziristan.
An Afghan government statement issued earlier in the past week said Pakistan had failed to take steps to eliminate terrorist sanctuaries. It added that if Pakistan's intelligence service is using the Taliban against Afghanistan, then the Afghan government needs to have negotiations with Pakistan, "not the Taliban."
That statement was released after Karzai met with senior government, religious, political and jihadi leaders to discuss the peace effort.