Accused killer released from jail days before torturing, raping Air Force vet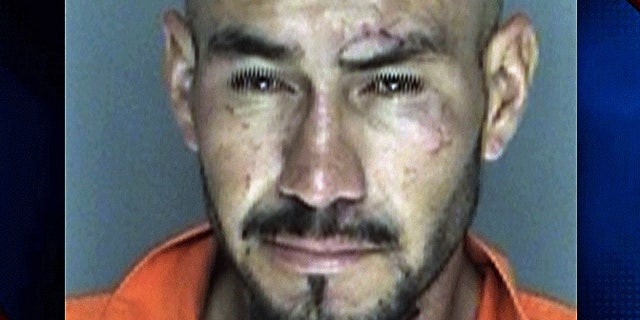 An undocumented immigrant who is charged with raping, torturing and murdering a woman in California had multiple previous arrests and was released from prison days before going on to commit more crimes, according to the Los Angeles Times.
Victor Aureliano Martinez Ramirez, 29, is accused of breaking into a Santa Maria resident's home on July 24 and attacking Marilyn Pharis, 64.
Police said that Ramirez beat Pharis with a hammer, raped her and killed her. The former Air Force veteran died of her wounds on Aug. 1.
Ramirez was held at the Santa Barbara County Jail on drug and weapons charges July 17, the Times said, attributing it to the Santa Barbara County Sheriff's Office. He was released just a few days later.
County jail officials say that immigration authorities declined to issue a detainer, which requires that an arrested undocumented immigrant remain in custody until the U.S. Immigration and Customs Enforcement can take over and begin deportation proceedings.
Another man, Jose Fernando Villagomez, who is 20 and a U.S. citizen, is charged with Ramirez in the attack.
Ramirez has had several brushes with the law.
He was on probation for assaulting a woman last year, when he was also in possession of methamphetamine, according to the Times. He had violated probation at least twice – for concealing a knife and for drug possession.
A Santa Barbara judge chose to order Ramirez to a substance abuse center instead of sending him to jail, reports the News Press.
Ramirez almost was put in deportation last year, when ICE put on a detainer on him. But that fell through after Ramirez's case was reduced from a felony to a misdemeanor, precluding ICE from then taking him into custody, in accordance with California laws.
On Sunday, ICE officials said they did not put a detainer on Ramirez in July – when he was allowed to walk – because he did not have prior deportations or felony convictions.
Now, ICE wants to make sure that Ramirez doesn't fall off its radar again.
Immigration agency spokeswoman Virginia Kice said ICE is tracking Ramirez's case.
"Given the seriousness of the allegations associated with this individual's arrest, U.S. Immigration and Customs Enforcement is monitoring the case closely," she said in a statement, according to the Times.

Santa Maria Police Chief Ralph Martin has said flawed laws helped Ramirez obtain freedom from jail and ended up being a death sentence for Pharis.
"There's a blood trail leading to the bedroom of Marilyn Pharis" from Sacramento and Washington, Martin said.
"You know what we had to do? We had to cite [Ramirez] out," said the chief, according to a report from Santa Barbara's KEYT-TV Channel 3. "That's the problem with this system. This is not just in Santa Maria. This is all over the state of California and all over the United States."
Like us on Facebook
Follow us on Twitter & Instagram