Wrong-way crash kills 3, leaves mangled mess on Michigan interstate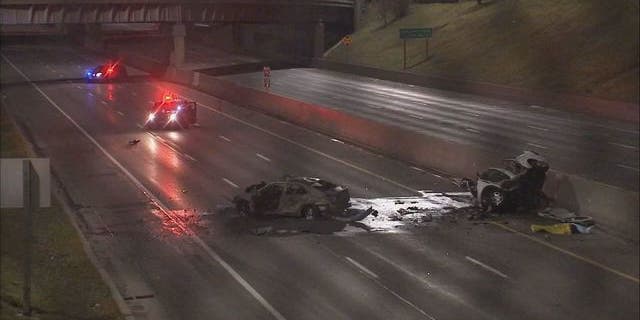 Three people have died and two others were injured in a crash on southbound Interstate 75 early Wednesday morning, according to Michigan State Police.
Police tell us the two-vehicle crash was caused by a wrong-way driver. The accident happened just before 4 a.m. in Detroit near the I-94 exit.
MICHIGAN SHERIFF'S OFFICER ACCUSES FEMALE SUPERIOR OF SERIAL SEXUAL HARASSMENT
"We didn't receive any calls into 911 about a wrong-way driver, which is pretty unusual, so it must have happened pretty quickly," says Michigan State Police Lt. Michael Shaw.
Names of the victims have also not yet been given, and investigators are working to determine the make and model of the cars. It's also unclear at this time which victims were in which vehicle, and who is at fault. We're told at least one of the vehicles also caught fire after the crash.
We're told the two people injured are in critical condition and may not survive.
"With the amount of injuries that are to all parties - all five parties that are involved in there - we may never, ever get to talk to any of them to kind of determine what was going on in the vehicles beforehand or what the incidents were," Shaw says.