Woman with brain cancer who chose baby instead of chemotherapy has died
A Michigan woman who chose to forego cancer treatments that would have prolonged her life but ended her pregnancy died Saturday, three days after giving birth to her sixth child.
"I'll see you in Heaven," Nick DeKlyen said to his wife just before she died.
"We stayed by her until she took her last breath," he said. "It's in God's hands now."
The 37-year-old woman died surrounded by family at University of Michigan Hospital in Ann Arbor.
She had been in a coma since July and gave birth to a baby girl via emergency cesarean section on Wednesday.
Life Lynn weighed 1 lbs., 4 ounces at birth.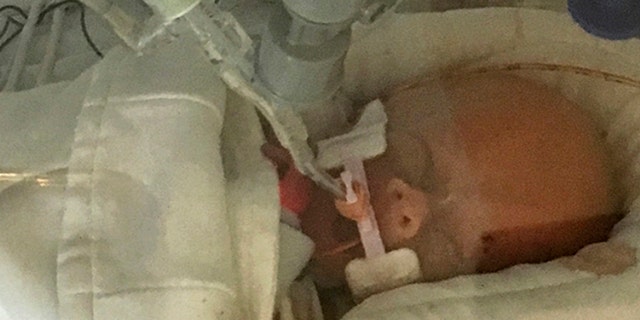 Nick DeKlyen said his daughter is doing better than expected in neonatal intensive care, gaining weight and "almost breathing on her own."
"She's going to be fine," he said. "She's going to be here for four or five months, but we expect her to be a healthy baby ... The doctor just said the timing (of the birth) couldn't have been more perfect."
Doctors removed Carrie DeKlyen's feeding and breathing tubes on Thursday.
She chose to forgo chemotherapy to treat her brain cancer, since it would have meant ending her pregnancy.
Life Lynn was born prematurely, at 24 weeks and five days into the pregnancy.
The couple, who are from the western Michigan city of Wyoming, have five other kids who range in age from 2 to 18 years old. Nick DeKlyen said the family is strong in its Christian faith.
"My wife loves the Lord and she loves her children more than anything," he said Friday.
"It's painful," he added. "But this is what she wanted. She wanted to protect this child."
Since Carrie DeKlyen's cancer diagnosis in April, the family has been sharing updates about her and her pregnancy on the Facebook page Cure 4 Carrie . Posted on the page Saturday was a reference to a Bible verse, John 15:13, which reads: "Greater love has no one than this: to lay down one's life for one's friends."
She discovered she was pregnant just two weeks after being diagnosed with glioblastoma. She underwent two surgeries to remove the tumor and, along with her husband chose to forego a clinical trial in order to protect the baby.
The Associated Press contributed to this report