Woman says she saw Maddox Ritch at North Carolina park the day he went missing; authorities investigate death
A woman said she saw 6-year-old Maddox Ritch at the North Carolina park the day he vanished — contradicting a park worker's claim that he never saw the child before the father reported him missing.
Brooke Sheppard told WBTV she was at Gastonia's Rankin Lake Park with her mother on Sept. 22 and saw Maddox, who had nonverbal autism, skipping and jogging.
"I can remember her [my mother] looking over and asking him 'hey buddy are you tired?' because he had just been skipping, jogging, being a kid," Sheppard said, adding that she was at the park for a church picnic.
She told the news station that she later heard Maddox was missing. On Thursday, the FBI agents said they found a body believed to be Maddox was located near the park, about 20 miles west of Charlotte. The body was partially submerged in the creek.
"I knew immediately that was him, because I can remember seeing him, and then he was in front of me. I can just remember it to a T," Sheppard said.
BODY BELIEVED TO BE MISSING NORTH CAROLINA BOY WITH AUTISM FOUND, FBI SAYS
Sheppard added that she has been interviewed by detectives several times and have retraced her steps to where he saw the boy.
Sheppard's account differs from what Rick Foxx remembers. Foxx, who called 911 to report Maddox missing, told CBS News last week that he didn't see the child once the day he went missing. Maddox was with his father, Ian Ritch, and his girlfriend.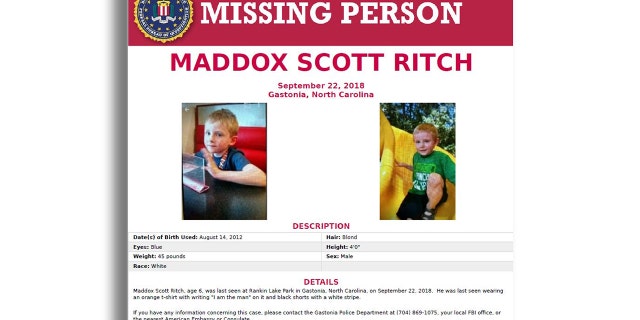 "It didn't look as though, they were that concerned," Foxx told CBS News, referring to the couple. "I've worked there almost three years and we see everybody come in and out of that park pretty much. I didn't see that kid one time."
POLICE SEARCHING FOR MYSTERIOUS MAN IN WHITE TRUCK WHO MAY HAVE BEEN LAST TO SEE MISSING BOY WITH AUTISM
The FBI and Gastonia police said they are investigating how the 6-year-old ended up in the creek and his cause of death. Authorities have not indicated if foul play was suspected.
"Where did he enter, how did he get there, what was the manner of death, what was the cause of death? Was there any crime that was committed, or are we simply looking at an accident," FBI Agent Kaplan said on Friday. "Those are very difficult questions to answer, but they are questions that we will answer."
Maddox's father, Ian Ritch, also penned an emotional Facebook post on his son's death. Ritch previously said his son ran ahead of him and disappeared from his view while they were in the park.
"First I want to say thank u from the bottom of my heart to everyone who took part in searching for my sweet lil buddy. I truly appreciate everything everyone did to find him. And to everyone in the community that were hoping and praying and just took one second of their time to think about Maddox I thank yall too. I loved that lil boy he was my best lil buddy. Maddox was my only child and he will be the only one I will ever have," Ritch wrote.
MISSING NORTH CAROLINA BOY WITH AUTISM WASN'T SEEN AT PARK, WORKER WHO CALLED 911 SAYS
Ritch said he "wasn't so worried" the day his son went missing because he expected to find him immediately. But as the days and hours passed, he grew more worried.
"Once Sunday morning came thats when it startes [sic] me thinking I had something to worry about. Now today I found out im [sic] not a dad anymore. I had big plans with my son," Ritch continued.
"I would give anything to go back and save him. While a lot of people don't believe anything I have said in the past believe this. From this moment on for the rest of my life I will live with the guilt of not being there to save my son. The most important person in my life. So when everyone else gets to go back to their normal lives remember that I will never be the same man again. I will now and forever be a broken man until I take my last breath," he said.