Woman hides $2 million worth of liquid crystal meth in cleaning jugs, police say
A woman was arrested last week after cops pulled her over and discovered $2 million worth of liquid methamphetamine hidden in jugs while her 4-year-old daughter sat in the car, police said Wednesday.
Seline Lizeth Ayala, 23, was speeding down Interstate 35 in Austin when officers stopped her on July 12, police said. Another passenger and her daughter were also in the vehicle at the time, according to Fox 7 Austin.
Officers noticed Ayala was acting in a "suspicious behavior" and was nervous as she was being questioned. Narcotics K-9 did an "open air sniff," leading officers to the meth hidden in five jugs of "Purple Power" degreaser in the vehicle's interior compartment and trunk.
The 75 pounds of liquid meth equaled 34,000 grams – a total street value of about $2 million.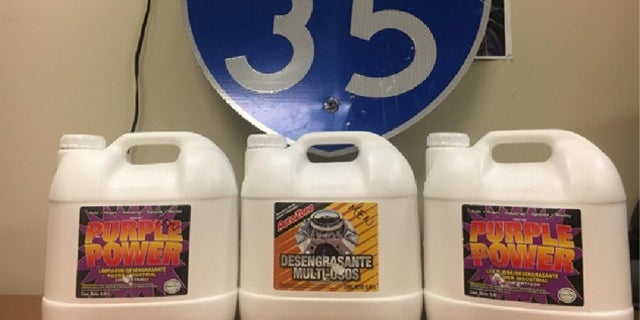 Ayala later told police an unidentified man asked her to deliver the drugs to the Dallas area, Fox 7 reported. She also admitted to delivering meth in late June to Carrollton, Texas.
Ayala was charged with conspiracy to possess with intent to deliver controlled substance. She faces up to 20 years in prison if convicted.