Wisconsin man who crashed car is Tasered after dancing barefoot, using 'karate moves' amid traffic, cops say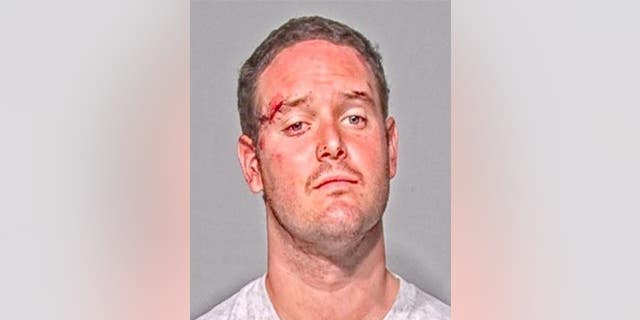 A Wisconsin man who crashed on an interstate was Tased by deputies Wednesday after he reportedly began dancing barefoot and showing off his "karate moves" in the middle of traffic.
Jordan Klock, 30, of Sheboygan, Wis., "faces [operating while intoxicated], third offense/drugs, second degree recklessly endangering safety and resisting/obstructing" charges following a series of events on I-43 near Daphne Road in Milwaukee County, FOX6 Now reported.
Klock allegedly side-swiped a semi-truck before his car "bounced off the right distress wall" and crashed into another vehicle, witnesses told the Milwaukee County Sheriff's Office. Klock, wearing no socks or shoes, then allegedly jumped out of the vehicle, began dancing and attempted to climb the semi-truck's cattle hauler.
MILWAUKEE POLICE OFFICER SHOT DEAD AFTER SUSPECT ALLEGEDLY YELLS 'I'M NOT GOING BACK TO JAIL'
Milwaukee County deputies said they were responding to reports of the crash when they saw Klock hop over a median wall. Deputies tried to block the man from traffic but he "charged at the squad."
A deputy Tasered Klock after he allegedly ignored the officer's request to get on the ground. But officials said Klock wasn't deterred. Klock allegedly ripped the Taser probes off his chest and started acting out Karate-style moves.
The Glendale Police Department also responded to the call before Klock fled from officers and leapt over another median. He was eventually stopped by officers and fell to the ground, where he suffered a cut above his eye, officials said.
LIGHTNING STRIKES WOMAN AT COUNTRY MUSIC FESTIVAL IN WISCONSIN
The Glendale Police Department said four officers attempted to restrain Klock, but he lifted all of them from the ground. However, authorities said they were finally able to secure him by using leg and wrist restraints. He was then given medication to calm down.
Klock was transported first to the hospital, then to the Milwaukee County Jail -- but he was returned to the hospital after "becoming more combative" and requiring more treatment, officials said.