Winter storm may threaten East Coast as cleanup continues from nor'easter
A winter storm bringing blizzard conditions across parts of the central U.S. may target the Northeast later this week as the region continues to clean up from the recent bomb cyclone.
The storm is not expected to rapidly intensify off the coast, a process known as "bombogenesis," but will still bring snow, heavy rain, and strong winds to the region, according to AccuWeather.
Heavy snowfall may hit parts of New England, such as Vermont and New Hampshire, while a wide-swath of the highly populated cities may see accumulating snow from Wednesday into Thursday.
"The midweek storm may drop accumulating snow from The Delmarva Peninsula through Pennsylvania, New Jersey and into Maine and Quebec," AccuWeather Senior Meteorologist Alan Reppert said.
It remains too early to know how much snow the storm may bring to the Northeast, but a track closer to the coast will result in higher snow totals inland than along the coast, according to Fox News Senior Meteorologist Janice Dean.
"Not as strong as this past beast, but more snow for coastal cities possible," Dean said Sunday.
POWERFUL NOR'EASTER CLAIMS AT LEAST NINE LIVES AS IT MOVES OFFSHORE
As the storm moves across the central U.S., widespread snow is expected across the Northern Plains with amounts of 6-12 inches expected through parts of Montana, the National Weather Service said.
The system is expected to intensify on Monday and "will pick up speed," the weather service said, adding that "heavy snow will spread across the Northern High Plains to the Upper Mississippi Valley."
Blizzard warnings also have been posted across North and South Dakota, where driving along Interstates 90 and 94 is going to be "very difficult" because this "very strong system," Fox News Meterologist Adam Klotz said on "America's News HQ."
"It isn't a huge storm yet, but as it moves into northern Plains we're going to pick up a little bit more moisture, and you are going to see this thing pick up wind and really begin to drop a whole lot of snow," Klotz said.
The prospect of another storm comes as tens of thousands of utility workers in the Northeast raced to restore power to more than 1.5 million homes and businesses just days after a powerful nor'easter caused flooding and wind damage from Virginia to Maine.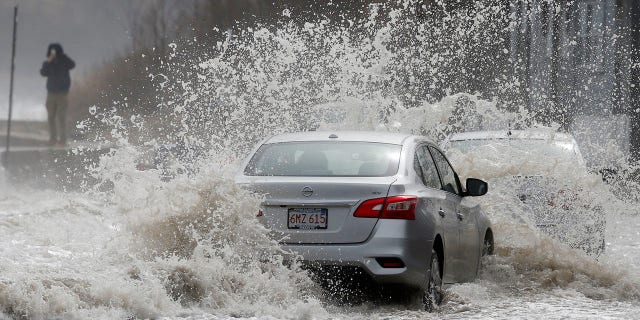 The powerful storm killed at least 9 people as the cleanup of snapped trees, damaged structures and mountains of debris continued on Sunday.
Flood waters had receded in most areas, but Friday's storm had taken huge chunks out of the coastline in Massachusetts and other states.
"It looks like a war zone,"  Becky Smith told the Associated Press, describing the scene in the coastal town of Scituate near Boston where powerful waves dumped sand and rubble on roads and winds uprooted massive trees. "It's a lot of debris, big rocks and pieces of wood littering the streets."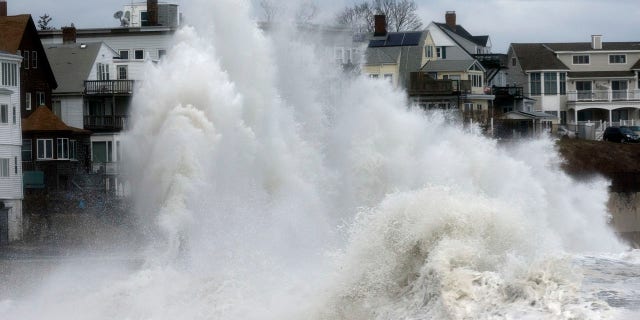 The storm's aftermath also was still affecting travel, with airports from Washington, D.C. to Boston reporting dozens of delays and cancellations, while service was slowly returning to normal on rail systems throughout the region.
Amtrak said nearly all of its northeast corridor trains will return to service on Sunday.
The Associated Press contributed to this report.