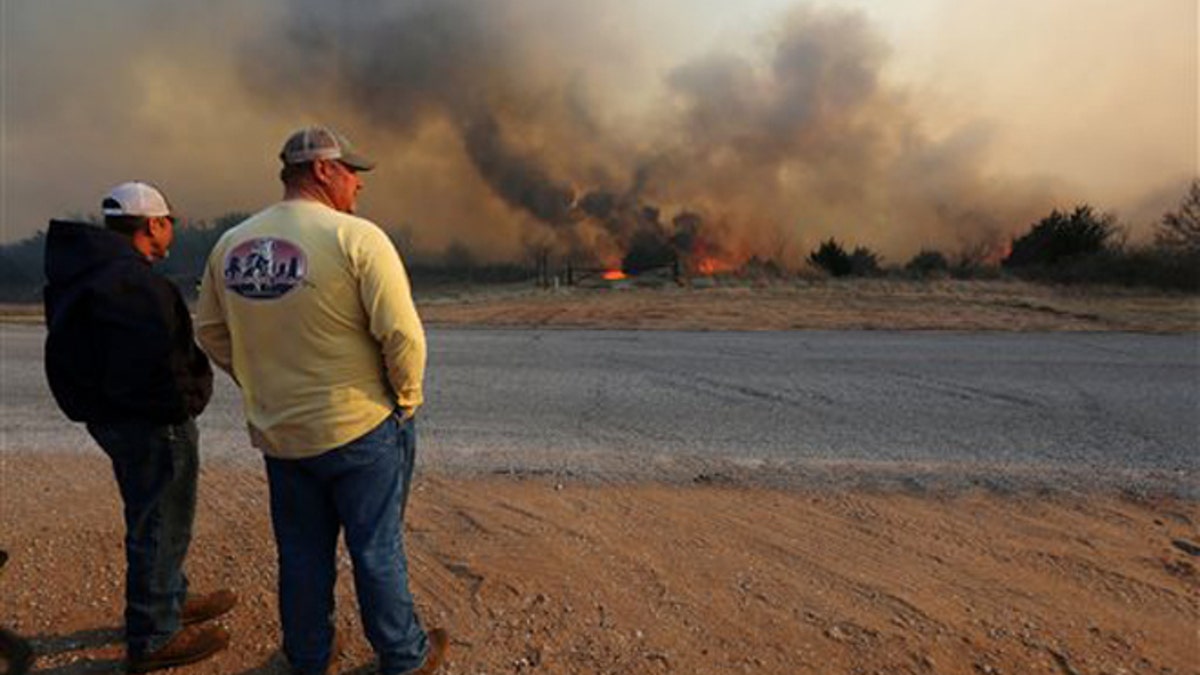 MEDICINE LODGE, Kan. – Hundreds of firefighters battled a wildfire Thursday spreading from Oklahoma to Kansas that has burned an estimated 620 square miles. At least four people have been treated for smoke inhalation or eye irritation and residents of several small communities were urged to evacuate their homes as the flames draw near.
Crews also battled blazes in the Texas Panhandle covering some 85 square miles.
High winds thwarted firefighters' efforts overnight to set up effective containment lines in Oklahoma, where the fire was raging and not contained, the state's Forestry Services said Thursday.
Fire officials in Kansas' Barber County, where crews are working to extinguish a 30- to 40-mile line of fire, predict the blaze would continue through Friday, said Darcy Golliher, a spokeswoman for the Kansas Incident Management Team. She expressed hope there would be only a few hot spots to monitor over the weekend.
"It will all depend on the wind," she said.
The National Weather Service said 25 mph winds are forecast in the area until noon, when they were expected to drop to 15 mph and then to 10 mph by sunset. Gusts of 45 to 50 mph were reported Wednesday. Smoke has been reported as far away as St. Louis, about 460 miles to the northeast of the fires.
With conditions "not as intense" and more crews arriving, firefighters were able to "get out there and really attack the fire" on Thursday, said Shawna Hartman, the spokesman for the Kansas Forest Service. Kansas Gov. Sam Brownback has declared a state of disaster emergency in some areas, authorizing state resources to assist.
In neighboring Comanche County, the fire that was briefly brought under control late Wednesday reignited the following morning when winds blew embers onto dry land, said John Lehman, Comanche County Emergency Management coordinator.
"The wind blows things around," he said. "It hits dry grass and away it goes."
Two separate grass fires burning several counties away near the Kansas town of Burrton forced evacuations, burned a home and killed several head of livestock, the Harvey County sheriff's office said in a news release.
In Oklahoma, the fire was moving toward the city of Alva, population about 5,000, although no evacuations were immediately ordered, said Mark Goeller, fire management chief of Oklahoma Forestry Services.
Meanwhile, four towns in Barber County, with a total population of 5,000 people, remain at risk Thursday if the winds shift, Golliher said.
On Wednesday, the blaze came close to Medicine Lodge, destroying one home and an outbuilding on the outskirts of the Barber County town of 2,000. Voluntary evacuation orders were issued there, as well as in the small towns of Sun City and Lake City.
Medicine Lodge Memorial Hospital was evacuated, sending 12 patients to a nursing home and two others to a nearby hospital. Authorities were making plans to return the patients Thursday. The hospital kept its emergency room open and treated one firefighter and one member of the public for smoke inhalation.
In Texas, where strong winds and low humidity created ideal fire conditions, some people were evacuated Wednesday from their homes in Skellytown, about 45 miles northeast of Amarillo, but were allowed to return after a few hours, said Linda Moon, Texas A&M Forest Service spokesman.
The fire also forced the closure of a stretch of U.S. 160 and U.S. 281 in Kansas and briefly a section of Interstate 40 in Texas. Scattered power outages have been reported.