White Ex-Officer's Sentence Spurs Oakland Protest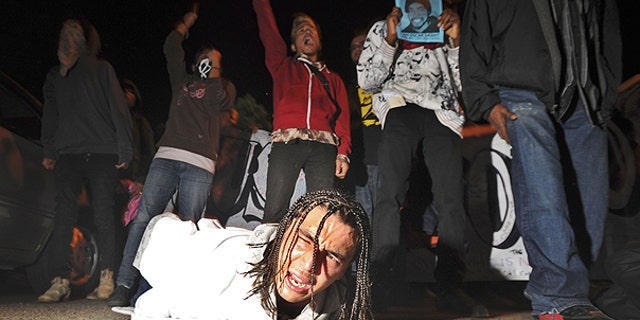 OAKLAND, California-- Police made more than 150 arrests as a crowd broke windows and knocked down fences, protesting a Los Angeles court decision to sentence a white former transit police officer to the minimum term for fatally shooting an unarmed black man.
Friday night's unrest was the latest in the case against defendant Johannes Mehserle, which has provoked periodic racial strife in Oakland since he shot and killed Oscar Grant while trying to arrest him on an Oakland train platform nearly two years ago.
The protests erupted hours after Los Angeles Superior Court Judge Robert Perry sentenced Mehserle to a two-year prison sentence, provoking immediate anger from the victim's family and friends who demanded a much harsher punishment.
"Oh my!" Grant's mother Wanda Johnson shouted. She burst out of the courtroom saying, "He got nothing! He got nothing!"
Grant's uncle, Bobby Cephus Johnson, said outside the court: "I do believe it's a racist criminal justice system." But he added that the family was reacting calmly.
An Oakland rally billed as a tribute to Grant turned into a march through the downtown area with residences nearby, where demonstrators broke car and bus windows late Friday night. Some carried a banner reading "Justice for Oscar Grant." Police helicopters hovered above, shining spotlights on the crowd.
Oakland Police Chief Anthony Batts said the protest was declared an illegal assembly after one officer had his gun taken from him in a fight and another officer was hit by a car and suffered non-life-threatening injuries.
Officers began making arrests about 8 p.m. and had detained and handcuffed 152 people by the time the protest had died down about 90 minutes later.
Police spokesman Jeff Thomason said officers checking the backpacks of several of those arrested found hammers, pepper spray, switchblades and anti-freeze.
Some residents of the area expressed empathy with the protesters but wished the demonstrators hadn't taken out it on their neighborhood.
"They have a right to be angry to an extent, but don't break other people's stuff," said Mohammed Mofeed, who manages a liquor store about a block from where a large of group of people were arrested.
He said that he didn't agree with the sentence, but didn't want to see his store or other businesses damaged.
"If you're going to protest, protest right," he said. "Don't vandalize other people's property"
Mehserle, 28, had faced a possible 14-year maximum term after being convicted of involuntary manslaughter. At the time of the shooting, Mehserle was a Bay Area Rapid Transit police officer responding to a report of a fight.
In making his decision during the highly charged, 3 1/2-hour hearing, Perry threw out a gun enhancement that could have added as much as 10 years in prison and said there was overwhelming evidence that it was an accidental shooting.
Perry said race would not factor into his decision and although Mehserle had shown "tons of remorse" for killing Grant, he would have to account that a "young man needlessly died."
"I did the best I could with this case," Perry told the courtroom. "My decisions today will not be well-received by many people. I'm sorry for that."
Police said they were prepared in case there was a replay of the rioting in Oakland that followed the shooting on New Year's Day 2009.
Mayor Ron Dellums said he understood the pain and disappointment sparked by the sentence.
"It is still my hope that people will express their anger, will express their disappointment, their outrage, their pain in a manner that is nonviolent, in a manner that is not destructive to our community," he said at a news conference.
Johnson family attorney John Burris acknowledged a small step was taken by the justice system in sentencing Mehserle to two years, but he said that was insufficient.
"What you take from that is that Oscar Grant's life was not worth very much," Burris said.
Reaction to the case has drawn comparisons to the infamous 1991 videotaped beating of black motorist Rodney King by Los Angeles police officers, which inflamed a racial divide and led to the disastrous 1992 riot when the officers were acquitted of brutality charges.
Defense attorney Michael Rains immediately filed an appeal. After time already served and good behavior credits, Mehserle will likely serve an additional six to seven months based on California's sentencing guidelines, the lawyer said.
Mehserle was convicted in July in the videotaped killing of Grant, 22, in Oakland. The case was moved to Los Angeles for trial.
He testified during the trial that he thought Grant had a weapon and decided to shock him with his stun gun but instead pulled his .40-caliber handgun. Grant was unarmed and face down when he was shot.
Mehserle, shackled and wearing a jail jumpsuit, also stood before the judge before sentencing and apologized for the shooting, which he contended was accidental and not racially motivated.
"I want to say how deeply sorry I am," Mehserle said. "Nothing I ever say or do will heal the wound. I will always be sorry for taking Mr. Grant from them."
Prosecutors had sought a second-degree murder conviction, saying Mehserle became angry at Grant for resisting arrest.
However, jurors were given the choice of lesser charges, including voluntary and involuntary manslaughter. In reaching a decision on involuntary manslaughter, jurors found that Mehserle didn't mean to kill Grant, but his behavior was still so negligent that it was criminal.
The judge rebuked prosecutors for arguing that Mehserle intentionally shot Grant, saying there wasn't any evidence to back up that allegation. Perry also said he believed the videos showed Grant resisted arrest and many people, including Mehserle's fellow officers and Grant's friends, contributed to the tragedy.
"All of these people share some responsibility," Perry said.