What's behind claims of reports about a rash of missing persons in Iowa?
Since Mollie Tibbetts vanished July 18, 49 other people have been listed as missing on the Iowa Department of Public Safety's database.
They hail from all over the state, from towns and cities big and small -- and the vast majority of them are under 20 years old.
But officials who are tasked with making sure these loved ones return home urge the public not to fret, as this, despite being surprising to some, is the norm there.
FAMILY AND FRIENDS ON THE ONGOING SEARCH FOR MOLLIE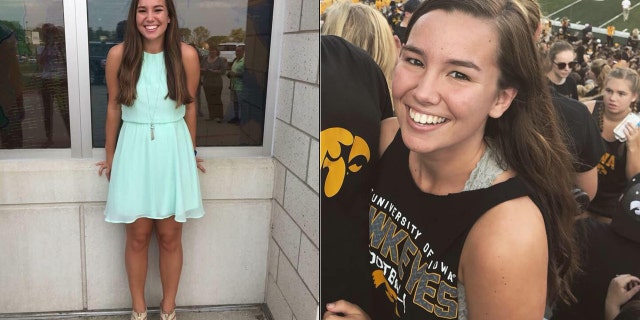 "In light of the missing person investigation of Mollie Tibbetts, concerns have come to light about the number of juveniles reported missing in Iowa in recent weeks," the Iowa Department of Public Safety acknowledged in late July as national interest in the Tibbetts case was heating up.
DPS says in fiscal year 2017, 4,311 juveniles were reported missing in Iowa – around an average of 12 per day.
But it added the "vast majority of [them] are found or returned home within 24 hours."
"Typically these cases are runaway situations," a DPS statement said. "The number of missing juveniles reported in recent weeks is in line with historical numbers."
As of Thursday, it said there were only 390 people "listed as missing on the Iowa Missing Person Information Clearinghouse," 225 of which were juveniles.
The statement came following posts on social media platforms such as Twitter that warned of seemingly new trends of young boys' and girls' names popping up in the database. One tweet hinting at such was shared more than 5,000 times.
Department of Public Safety spokesperson Medina Rahmanovic, however, told the Argus Leader one of the reasons why the number of missing appears so high is entries in the database are linked to specific incidents – not individuals.
Therefore, a person's name could be seen more than once in the records.
"We have juvenile runaways who run multiple times," she told the newspaper. "One juvenile can run three or four times, and that contributes to that big number."
On a national level, the FBI said, as of Dec. 31, 2017, there are 88,089 active missing person records in the National Crime Information Center's Missing Person File, which was established in 1975.
It said 32,121 of those entries are related to juveniles under the age of 18. When factoring in juveniles under the age of 21, the number increases to 41,089 – nearly half of all the entries in the file.
The National Center for Missing and Exploited Children says if your child or someone you know goes missing, first call local law enforcement, then their number at 1-800-THE-LOST (1-800-843-5678).
"NCMEC is prepared to assist in all missing child cases, even when a child has been missing for a long period of time, was abducted internationally by a parent or has special needs," the organization says on its website. "No missing child is ever forgotten, no matter how long they have been missing."