West Virginia House tables bill that led to second teacher strike in a year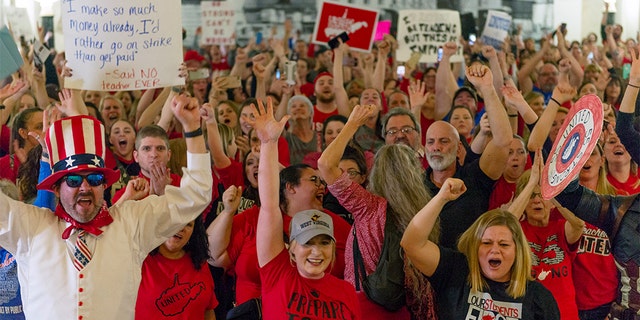 The bill that closed schools in West Virginia as teachers went on strike was tabled by state lawmakers only hours after the protest began.
Teachers in West Virginia went on strike Tuesday in response to a new bill they believed was retaliation against their nine-day strike last February, which launched a movement of teachers' union strikes across the country over the last year.
Public schools in all but one of the state's 55 counties had been closed on Tuesday while hundreds of teachers' union members picketed at the state capitol.
OAKLAND TEACHERS ANNOUNCE STRIKE OVER PAY, CLASS SIZE
The complex bill, which included a provision to create the state's first charter schools and allow for private school vouchers, was quickly killed by the West Virginia House of Delegates. The House voted 53-45 to table the bill indefinitely and the unions said they would meet with their members before they decide whether to take further action, including ending the strike.
American Federation of Teachers' West Virginia chapter President Fred Albert said "it was very clear today that the House heard our voice."
Senate President Mitch Carmichael said he was disappointed by the House's vote.
"Today the champions of the status quo won," Carmichael added. "But that will not stop progress. They're on the wrong side of history. Other states are moving forward. It's a marker in the process of education reform. It's not the end. The students, parents and teachers lost."
Why were teachers protesting the bill?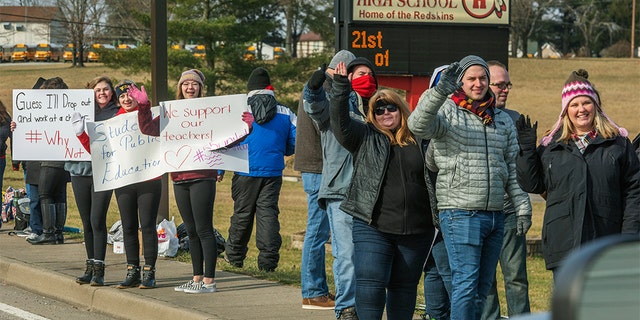 The unions complained lawmakers never asked for their insight into the bill that would have overhauled West Virginia's educational system.
One sticking point has been a provision to create the state's first charter schools, which the unions believe would erode traditional public education but bill advocates say would give parents more school choices. Charter school laws have been enacted in 43 other states and Washington, D.C.
The Senate version would have allowed for up to seven charter schools statewide and provide for up to 1,000 education savings accounts for parents to pay for private school. The accounts would be for special-needs students and those who have been bullied.
DENVER TEACHER STRIKE REVEALS US DIVIDE OVER BONUS PAY
The House version did not call for such savings accounts and would limit charter schools to one each in Cabell and Kanawha counties.
Before the House vote, Republican Gov. Jim Justice had said he would veto the bill if it included the savings accounts and more than two charter schools. He was critical of how the Senate handled the legislation.
What were West Virginia teachers protesting last year?
Almost exactly a year ago, teachers in West Virginia went on strike after the governor signed a 2 percent pay raise for the next year. West Virginia teachers were among the lowest-paid in the country and hadn't seen a salary increase in four years.
After nine days of picketing and protesting, which left 277,000 students out of school, the House of Delegates approved a 5 percent increase.
After the February 2018 protests, teachers in Arizona, Kentucky, Oklahoma, Washington state, Los Angeles and Denver followed suit. The strike in Los Angeles ended in January and the protest in Denver ended last week.
Teachers in Oakland, California, have authorized a strike starting Thursday over class sizes, counselor and nurse staffing and raises.
The Associated Press contributed to this report.