Washington home intruder watching women sleep in their beds, police warn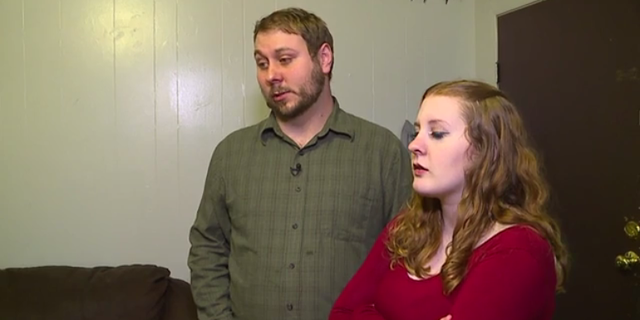 NEWYou can now listen to Fox News articles!
Jericka Northness said she is terrified to close her eyes at night, knowing she might wake up to the same eyes staring back at her.
"We wake up in the middle of the night and adrenaline is going, even though nothing is wrong," said her boyfriend, Brian McCartney. The young couple said it was in the early hours of Thursday morning in Mason County, Wash., when Jericka woke up to a man a few feet away from the edge of her bed, looking at her with his cell phone out.
GEORGIA TEENS WHO KILLED GRANDPARENTS PLANNED ON KILLING MORE, POLICE SAY
"Something's not right, this can't be my boyfriend," she said. Thoughts started to race through her mind, when she realized Brian was fast asleep next to her, she said she panicked.
"I started hitting him like, 'Wake up! Wake up!' and he started to wake up and at that point, he started to walk away," she said.
DALLAS GUNMAN TARGETS BOSS BEFORE KILLING HIMSELF
The man walked out of their house the same way he walked in, through the back door which was unlocked. "It seemed like all he was interested in was just watching us sleep," she said.
Brian said as soon as he realized what was going on, they both heard the back door snap shut. They called 911 and police came to the home to investigate.
"I can't help but wonder if he was in our house before the incident. Maybe checking everything before when we're gone," said McCartney. "Quite often we've not locked the front door, but we usually leave the back door locked and yet that was his point of entry and his point of exit."
Mason County Sheriff's Office along with the Shelton Police Department are investigating the case. Since Thursday, detectives have discovered six similar cases in the county where a man described as approximately 5' 10"- 6 ft. tall, medium to thin build, dark shaggy hair, wearing dark clothing and a zip up hoodie sweatshirt entered through unlocked doors in the early morning hours.
Northness said she believes the man was white and in his mid-20s to 30s.
"He's definitely not someone I recognized or have seen before," she said. Detectives are trying to discover how the suspect is choosing his victims. At this point, they said all the women have multiple things in common. They work in the service industry, like fast food restaurants, they're between the ages of 17 and 22, they live with someone else and post actively to social media, especially Facebook.