Virginia man followed woman across three states in fake police car, authorities say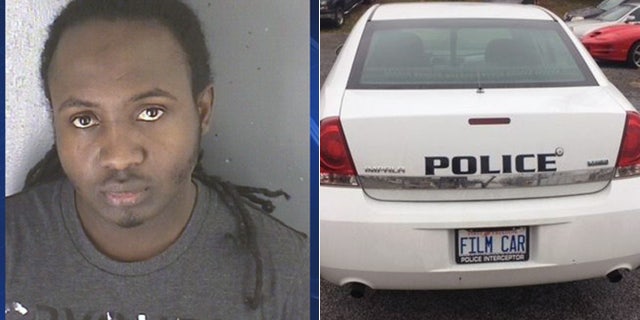 Authorities in Virginia say a man has been arrested and accused of impersonating a police officer after he allegedly followed a female driver through parts of Maryland, West Virginia and Virginia over the weekend.
Jerry Lentz Saintvil, 28, is also charged with presenting a false ID to law enforcement to avoid arrest and driving on a suspended license. He was being held in lieu of bond in Fauquier County, Va.
The Fauquier County Sheriff's Office said the woman called them Saturday afternoon to report that she was being followed by a car that had flashing blue lights and was marked "police." The woman added that the driver of the car was weaving through traffic to keep up with her.
A deputy pulled Saintvil over in Warrenton, Va. He claimed the car had been used to film a music video and that he was driving home; however, authorities say he gave false identification and to the deputy and made conflicting statements.
Authorities identified the car as a 2010 Chevrolet Impala with the word "police" written on the doors and trunk. It also had a North Carolina license plate that read "FILM CAR." They said they contacted the car's registered owner, who did not cooperate with them.
The sheriff's office said investigators had found several imitation law enforcement items in the vehicle, including a tactical vest, a police-duty belt with a handcuff case, an airsoft gun and portable radios.
Investigators told Fox 5 DC that Saintvil has been accused of impersonating a police officer before. Details were not immediately available.