Veteran with no family has hundreds show up for funeral in Tennessee
A Marine Corps veteran who was listed as "unclaimed" after he died had hundreds show up at his funeral last week in Tennessee to make sure he wasn't forgotten.
Leo Stokley, 69, of Murfreesboro, Tenn. died on Nov. 4 at a nursing home in Ashland City, according to his obituary posted by the Boyd Funeral Home.
Stokley was born on June 5, 1949 in Greenville, S.C. and served in the U.S. Marine Corps, completing a tour of duty in Vietnam. The veteran was set to be buried with military honors on Nov. 9 at the at the Middle Tennessee Veteran's Cemetery in Pegram when staff members at the Cheatham County Veterans Service Office learned he was an "unclaimed" veteran"
"When we found out that he was considered an unclaimed veteran, which means he has no family, we wanted to make sure that he got claimed," Bob Counter told The Tennessean.
Counter, an Air Force veteran, initially posted about it on the Cheatham County Veterans Service official Facebook page.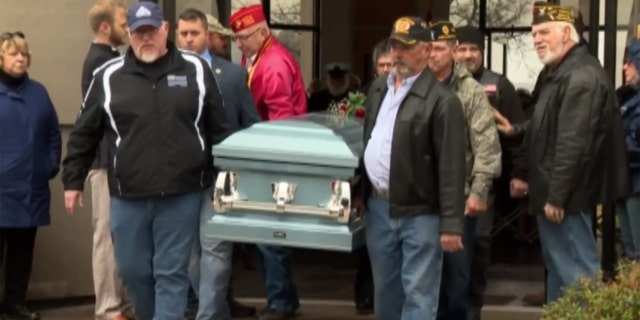 "We are asking Team Cheatham, and especially our Veterans, to claim Mr. Stokley as a matter of respect for his military service," the post read. "No Veteran should have a funeral without someone holding his/her service in high regard. It's just not right or fitting."
FMR. AMB. RYAN CROCKER: WE MUST KEEP OUR PROMISES TO THOSE WHO SERVE WITH US
After the initial posting, his message was picked up by several other popular Facebook pages, and quickly went viral with thousands of shares by the time of the funeral on Friday.
"It's very heartwarming to see this many veterans and friends of veterans that show up here on a cold, rainy day, a weekday, to send him off in style," Counter told WTVF. I'm proud for that. I'm proud for these guys that did that," said the Air Force veteran.
Stokley was then laid to rest at the Middle Tennessee Veterans Cemetery in Nashville.