Upcoming heatwave expected to worsen raging California wildfire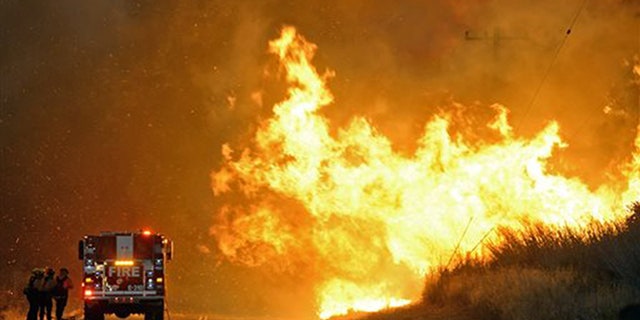 NEWYou can now listen to Fox News articles!
GOLETA, Calif. – A California wildfire that forced the evacuation of campgrounds and ranches devoured additional thousands of acres Friday and rising winds could stoke the flames racing through rugged canyons toward the Pacific Ocean, fire officials said.
The blaze — which shut down U.S. 101, the state's major coastal highway, for two nights in a row — had consumed 9 square miles of heavy brush.
The fire was 20 percent contained but so-called "sundowner" winds that rush down the mountains in 40 mph gusts were beginning to kick up again Friday night, fire officials said.
"It's very hot and dangerous," Susan Klein-Rothschild with the county health department said of the blaze. "The last couple of nights...it's calmer during the day and the eruptions and explosions and expansions have happened during the night hours."
Weekend fire dangers already were expected to worsen with the arrival of an extreme heatwave across the Southwest.
Another fire erupted Friday afternoon in Northern California. The wind-driven blaze southwest of Sacramento quickly burned 200 acres of grasslands and prompted the evacuation of China Gulch, a tiny community in the historic Gold Country.
By evening, though, the fire's forward movement had been stopped and the blaze was 40 percent contained.
In central New Mexico, a blaze that began Tuesday had destroyed 24 homes and charred more than 26 square miles near the small community of Chilili.
Lighter winds helped firefighters battle the blaze in triple-digit temperatures.
Three days after the fire erupted in the Manzano Mountains south of Albuquerque, it remained "extremely active," said fire information officer Denise Ottaviano.
"We're seeing up to 100-foot flame lengths or more throughout the day," Ottaviano said. "We're fighting it as many ways as we can and as safely and quickly as possible."
Authorities expanded a mandatory evacuation zone to include more subdivisions to the north and east. They could not say how many homes were affected or how many were directly threatened.
The fire cast a thick haze that reached as far north as Denver.
The California inferno appeared to support national wildfire authorities' predictions of another dangerous and difficult year for the state after years of drought. State firefighters and the U.S. Forest Service already have fought more than 1,800 wildfires since Jan. 1, the California Department of Forestry and Fire Protection said.
While El Nino delivered rain and snow to Northern California this winter, the south was bypassed. What rain fell was just enough to sprout grasses that quickly died, adding to the danger of long-dead vegetation.
"It is ominous," Santa Barbara County Fire Chief Eric Peterson told a press conference.
About 270 homes and ranches were considered at risk in southern Santa Barbara County at the foot of the rugged Santa Ynez Mountains, an east-west trending range that parallels the south-facing coast.
Lanny Stableford watched as a fleet of aircraft attacked flames in rugged Refugio Canyon near his ranch.
He keeps 40 head of longhorn cattle.
"I can leave but they won't let me back so I'm just kind of hanging out here," he said, noting he was not in danger. "Somebody has to take care of my cows."
In east-central Arizona, progress was made against a 15-square-mile blaze that broke out Wednesday south of Show Low.
Crews deliberately burned thousands of acres to deprive the fire of fuel.
Much of the fire is burning in terrain too rugged for safe work on the ground, so crews have concentrated on clearing firelines along a highway, roads and a power line, said Rick Miller, the fire team's operations section chief.
John Pierson, head of the top-tier fire management team assigned to the blaze, said fire officials hoped to have lines along 30 percent of the fire's perimeter by late Friday.
"We're feeling pretty good, like we're having success," Miller said.
However, a small Navajo County community remained evacuated and thousands of other residents were told to be prepared in case they had to leave.