University of Vermont teen found dead in snow a warning to students, parents say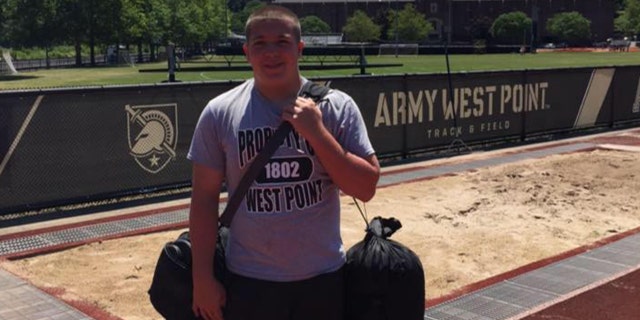 Dorothy Connor is sharing the story of her son Connor Gage's death on one of the coldest Groundhog Days in decades in hopes of preventing a similar tragedy from striking.
The 19-year-old University of Vermont student was found dead in a snow-covered parking lot in Burlington on Feb. 2, authorities confirmed. The teenager was pronounced dead at the scene after first responders tried to resuscitate him "without success."
Gage, of Little Falls, New York, was an honors student studying neuroscience who had dreams of becoming a physician, Connor described to the Burlington Free Press days after her son's death.
UNIVERSITY OF VERMONT STUDENT FOUND DEAD IN SNOW AFTER TAKING APPARENT SHORTCUT, POLICE SAY
"He was kind, he had a big heart, he knew how to make people feel valued," Connor, along with Gage's siblings, said in a statement to the newspaper.
Now the mom is sharing details of her son's untimely death to encourage other students to use the "buddy system" and look out for one another.
"A lot of crimes happen to people, or even just accidents happen to people when they're alone. There's power in numbers."
Gage had attended two off-campus fraternity events and had been drinking before he was found unresponsive in sub-zero temperatures, police said. Preliminary conclusions of an autopsy find that his death was the result of exposure to the cold, "exacerbated by acute intoxication."
UNIVERSITY OF IOWA STUDENT DIES DURING POLAR VORTEX
Burlington Deputy Police Chief Jon Murad said Gage was alone, inadequately dressed and "moving in ways consistent with intoxication and/or hypothermia."
Connor and Gage's step-father Norm Freund want to work alongside the University of Vermont and other colleges to raise awareness about the dangers of alcohol and drugs — particularly in the winter — and "mutual accountability" through their newly created "Connor Gage Never Walk Alone Memorial Fund."
"A lot of crimes happen to people, or even just accidents happen to people when they're alone. There's power in numbers," Connor told the Burlington Free Press on Monday, noting they've already raised more than $2,500 through GoFundMe.
"[We want to make] sure that everyone knows and is not afraid to use policies in place that could be life-saving," Freund echoed to the paper.
The family has a goal of raising $50,000 in Gage's name, hoping to use the money to educate other college students and possibly even start a scholarship.
CLICK HERE FOR THE FOX NEWS APP
"If one person can help another, or one life can be saved by us speaking or having the ability to bring in resources, that would be what the money is for," Connor added.
The University of Vermont previously extended condolences to those who knew Gage,
"Our sincere thoughts of care and sympathy are also extended to his friends, classmates, and to faculty and staff who were close to him," the school said in a Feb. 3 statement.
Several residents responded to the news — many agreeing with Gage's parents that there needs to be more of an effort to give students more safety tips, especially in freezing temperatures.
"What a waste of [a] life, so heartbroken for his family. Seems like someone should've known or been with this kid. So a lesson for all you young ones, STICK WITH YOUR FRIENDS, take care of each other. You only get one chance," one Facebook user commented on the University of Vermont's post.
"Was heartbreaking to hear of another young mans death in the cold at another university, then to hear the same thing happened at my Alma mater, such a great loss...I'm sorry for your tragic loss UVM, friends and family...this cause of death seems preventable..which is what is going to weigh so heavy on everyone for years to come," another wrote.
"As a freshman parent at UVM, this hurts so much. You send your child out into the world trusting they will be alright. My deepest sympathies and love I send to the parents and family. My thoughts are with you, god bless," a third added.
Fox News' Travis Fedschun and The Associated Press contributed to this report.