University of Iowa student reported missing after going for jog, officials say
Authorities in central Iowa are searching for a University of Iowa student who was reported missing on Wednesday after she went out for an evening jog.
The Poweshiek County Emergency Management Agency said in a news release that Mollie Tibbetts was last seen in the town of Brooklyn, located 50 miles west of Iowa City.
Tibbetts, who is described as 5 feet, 2 inches tall and approximately 120 pounds with brown hair and brown eyes, was last seen wearing gym shorts, a black sports bra and running shoes, according to the sheriff's office.
"Everything's on the table, unfortunately," Poweshiek County Sheriff Thomas Kriegel told KCCI. "We're hoping that she's somewhere with a friend and she'll show up Monday or Tuesday and everything will get back to normal."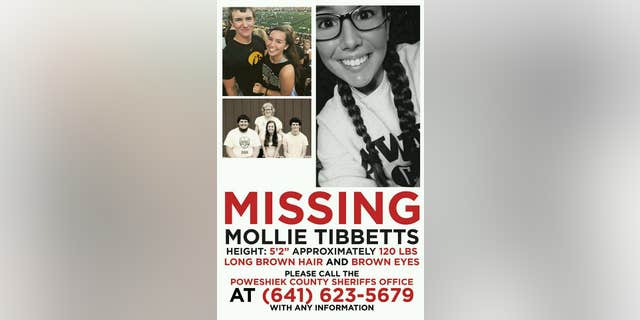 Family members told WOI-TV that Tibbetts was dog-sitting at a home before she went for a run. They knew something was off when she didn't show up at work the next day.
"This is not like her at all," her aunt, Kim Calderwood, said. "She's a very responsible and conscientious young woman."
Tibbetts' boyfriend, Dalton Jack, told ABC News she was dogsitting with him and went for a run around 10 p.m.
"She might have a FitBit on and she might have her cellphone, but obviously we've tried just calling her but it's either off or dead so it would go straight to voicemail," he said.
Investigators are now working with the university and others to get access to a laptop and online accounts belonging to Tibbetts that may have an electronic footprint of her whereabouts, her cousin posted to a Facebook page set up to find the 20-year-old.
"It can be slow and frustrating, but it is our best hope of securing Mollie's location," Emily Heaston wrote.
COLLEGE STUDENT HELPS AUTHORITIES LINK REMAINS TO OHIO TEEN WHO DISAPPEARED IN 1974
Heaston said that law enforcement will be repeating the neighborhood canvas near Mollie's home, jogging and work routes.
"The entire community was taking part in the ground search over the last two days, so many neighbors were not at their homes at the time of the first neighborhood canvas," she wrote. "The important part of ceasing the ground search is that those residents are home and available to speak with law enforcement."
On Friday, search crews focused on the fields between Tibbetts' house and where she was staying when she was last seen, KCRG reported.
Crews also tried searching with helicopters, but low cloud cover prevented them from getting the aircraft up, a spokesperson for the Poweshiek County Sheriff's Office told the television station.
The Poweshiek sheriff's office told the Des Moines Register no new information was available, but that the search continued Saturday. Anyone with information on Tibbetts whereabouts is asked to call 641-623-5679.