Unemployment rates fell in most US cities in July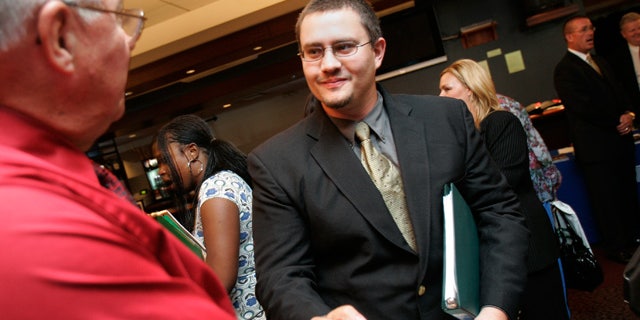 WASHINGTON – Unemployment rates fell in a majority of U.S. cities in July, despite a weak economy that is producing few jobs.
The Labor Department said Wednesday that unemployment rates dropped in 193 large metro areas, increased in 118 and were flat in 61. That's a sharp change from June, when unemployment rates rose in more than 90 percent of metro areas.
The biggest monthly decrease was in Morgantown, W.Va. The unemployment rate there fell from 6.6 percent in June to 5 percent in July, mostly because people stopped looking for work. The government only counts people as unemployed if they are actively seeking work.
Yuma, Ariz., a farming hub that depends heavily on migrant farm work, experienced the largest increase, from 27 percent in June to 30 percent in July.
Unlike the national data, metro unemployment rates are not adjusted for seasonal changes, such as the start of the school year.
In July, the U.S. economy added 117,000 net jobs and the national unemployment rate fell to 9.1 percent. Still, the economy needs roughly twice that number of jobs to significantly lower the unemployment rate.
Many businesses pulled back on hiring this spring, after high gas prices, scant wage gains and supply disruptions caused by the Japan crisis contributed to a slowdown in growth.
The economy expanded at an annual pace of just 0.7 percent in the first half of the year. That's the weakest six months of growth since the recession officially ended two years ago.
The July-September quarter is off to a better start. Consumer spending rose 0.8 percent last month, the largest gain in five months. Americans bought more cars and spent more to cool their homes during a heat wave.
Twelve cities reported unemployment rates greater than 15 percent. Eleven of those cities were in California. El Centro, Calif., had the nation's highest rate at 30.8 percent. It was followed by Yuma, Az. Both cities are big agricultural producers.
Bismarck, N.D., had the nation's lowest rate, at 3 percent. It was followed by Fargo, N.D., at 3.7 percent, and Lincoln, Neb., at 3.8 percent. Eight of the 10 metro areas with unemployment rates less than 5 percent were in the upper Midwest. North Dakota, in particular, has been helped by a boom in its oil drilling industry.