U.S. Rescue Teams Join Global Relief Effort in Japan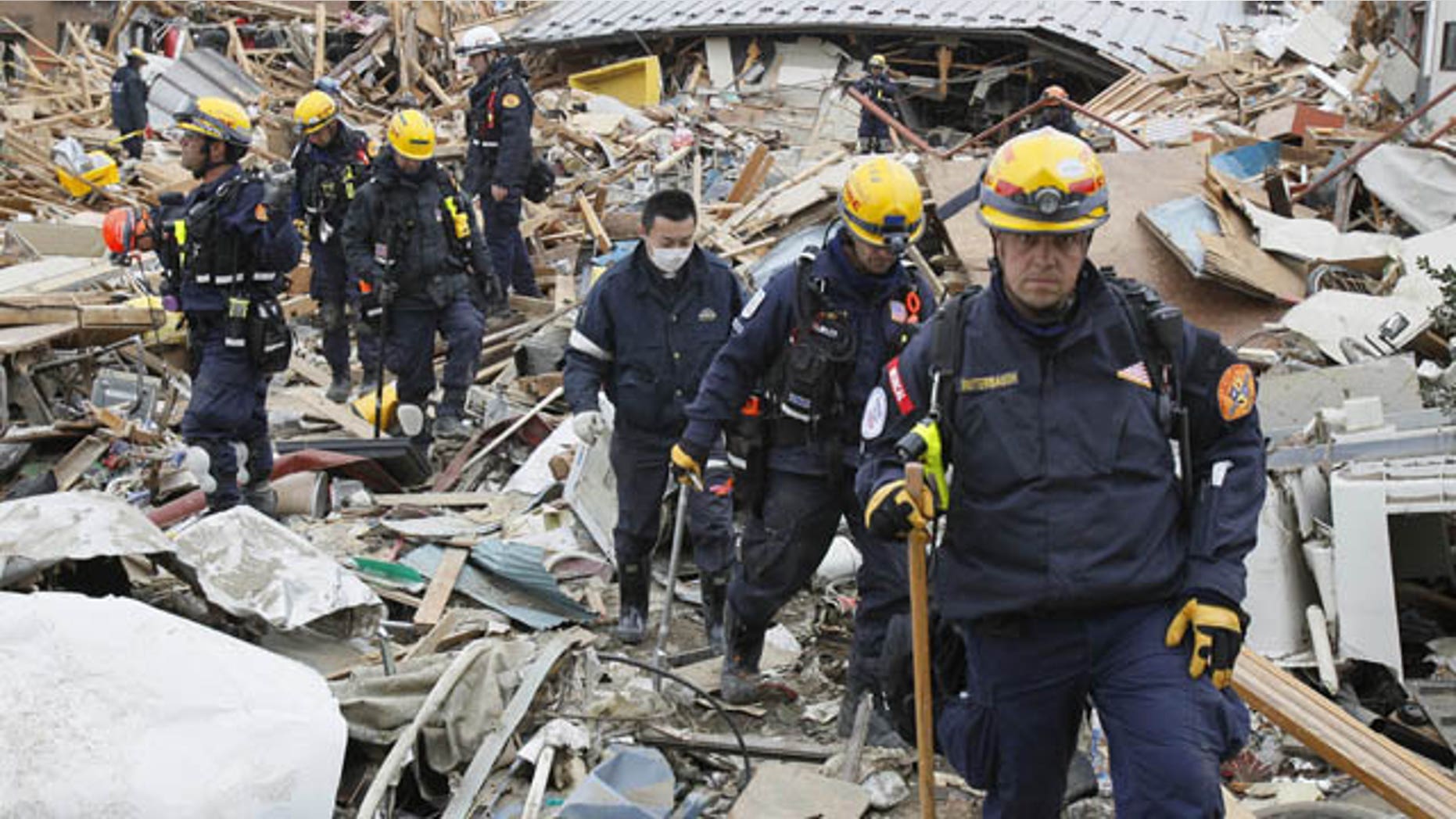 Elite search and rescue teams from Virginia and California are searching through rubble in northern Japan, hoping to find victims clinging to life four days after a magnitude 9 earthquake and tsunami swept away entire towns and their residents.
Hours after the historic earthquake rocked Japan Friday and a subsequent tsunami flooded coastal cities, the U.S. Agency for International Development (USAID) deployed two urban search and rescue teams from California's Los Angeles County and Virginia's Fairfax County to Japan to assist with local relief efforts.
The 72-person rescue teams -- each equipped with six canines trained to detect live victims -- then traveled on Monday from Misawa Air Force Base in Japan's Honshu Island to Ofunato City, Iwate Prefecture, where they established a combined base of operations with a United Kingdom search and rescue team, according to USAID officials.
On Tuesday, the teams began searching the central portion of Ofunato City, a seaport of roughly 41,000 where the wave surge extended approximately 10 blocks into the metropolitan area. The teams completed a technical search of roughly 2 square kilometers each, but did not detect any live victims, USAID spokeswoman Gina Jackson told FoxNews.com.
"The teams remain hopeful that they will make live rescues in the days to come," Jackson wrote in an e-mail.
According to the Fairfax County Fire and Rescue Department, both teams will be working under the direction of the Tokyo Fire Department. The Virginia-based team was last activated following last year's earthquake in Haiti, where it assisted in the rescue of 16 victims.
France, Britain and Germany have also provided assistance to the ongoing recovery efforts in Japan, where the death toll surpassed 3,000 on Tuesday, according to reports. As of Monday, Japan had accepted assistance from roughly 15 countries, including China, the Republic of Korea, Singapore and New Zealand.
USAID -- the primary federal agency that provides assistance to countries struck by natural disasters -- also provided a Disaster Assistance Response Team (DART), which includes members with nuclear expertise from the Department of Energy, Department of Health and Human Services and the Nuclear Regulatory Commission (NRC).
USAID also provided an initial $100,000 through the U.S. Embassy in Tokyo to assist with local relief efforts. A total of $740,600 has since been provided to Japan by USAID and the Office of U.S. Foreign Disaster Assistance (OFDA) as of Monday, federal officials said.
NRC officials announced on Monday that nine additional experts have been sent to Tokyo to provide extra assistance as requested by the Japanese government. The team from NRC's headquarters in Maryland will conduct all activities needed to understand the status of efforts to safely shut down the Japanese nuclear reactors.
The 11-member team is led by Charles Castro, deputy regional administrator of the NRC's Center of Construction Inspection, who has worked in the commercial nuclear power industry at three different nuclear power plants. He will provide a single point of contact for the U.S. ambassador on nuclear reactor issues.
Meanwhile, Los Angeles County Fire Department Engineer Jason Vasquez, who works with a German shepherd named Maverick, is one of two handlers from the unit who remained in Los Angeles should a disaster strike there. He told AOL News he's seen "some pretty gnarly stuff" during his career.
"We search night and day in buildings that might collapse at any minute [and] through these huge piles of concrete and metal that are extremely dangerous," Vasquez told AOL News. "For the handler, it's a pretty stressful situation being so far from home. But the dogs -- they don't know the difference between a block away and 2,000 miles away."