Two Planes Collide at Boston's Logan Airport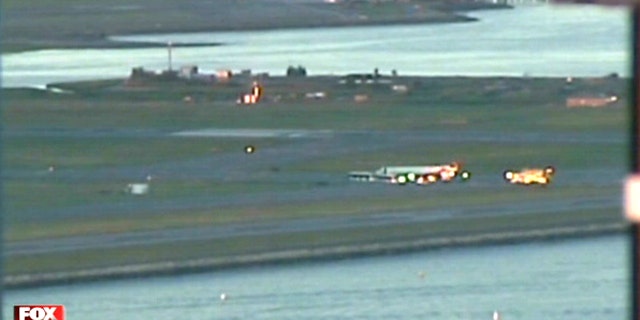 NEWYou can now listen to Fox News articles!
The wing of a Delta jet clipped the tail of an aircraft that provides regional air service for the carrier while both planes were on the taxiway and preparing to fly out of Boston on Thursday evening, forcing officials to remove them from service for inspections.
Local TV footage show the crash sheared off the tip of the Delta Boeing 767 and crumpled part of the smaller plane's tail.
Boston Logan International Airport spokesman Phil Orlandella said one person is complaining of neck pain after the crash.
There were no other injuries.
The incident involved Delta Flight 266 from Boston to Amsterdam which hit the vertical stabilizer of Atlantic Southeast Airlines Flight 4904, also on departure from Boston to Raleigh-Durham, Delta spokesman Trebor Banstetter said.
Investigators were talking to crew and passengers of both aircraft, trying to figure out the circumstances surrounding the crash, Orlandella said.
The Delta jet returned to the gate and ASA passengers were transported by bus to the terminal.
Atlanta-based Delta says both aircraft have been removed from service for inspections. Passengers are being put on other planes.
Click here to read more at MyFoxBoston.com.