Trump, Sanders Win New Hampshire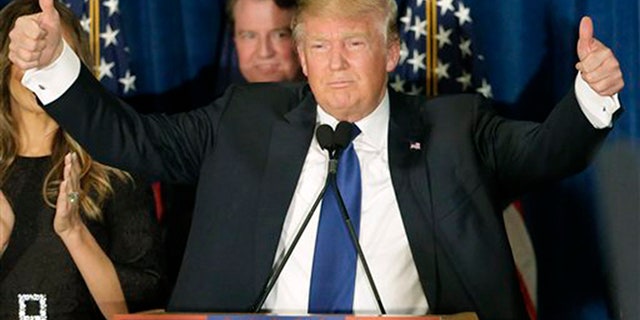 NEWYou can now listen to Fox News articles!
New Hampshire was one for the record books. Record turnout propelled Donald Trump to a substantial win among the Republicans getting more than 35%. Kasich with a strong showing at #2 with 16%. Ted Cruz, Jeb Bush, and Marco Rubio each got about 11%.
Chris Christie's attacks on Rubio may have dented Rubio in New Hampshire, but it didn't get him enough support in return. He's reportedly headed home to New Jersey to figure out his next move.
Carly Fiorina also polled badly, but insists she's staying in the race.
On the Democratic side, Hillary Clinton got stomped by the self-described socialist Bernie Sanders. Sanders got 60% to Clinton's 38%. Ouch.
Dan Balz in the Washington Post today writing, "Trump and Sanders were the big winners in New Hampshire on Tuesday night, a moment of triumph for a pair of candidates who have tapped anti-establishment anger and energy across the political spectrum. Everything that shaped the politics of 2015 came together to produce a seismic result, even though the contours of the finish had been forecast by months of polling."
Philip Rucker and Robert Costa write in the Washington Post today, "New Hampshire, the initial primary of the election year, could jolt the chaotic 2016 race by reinvigorating the flagging candidacies of Kasich and Bush and delaying the winnowing of the establishment contenders."
John Wagner and Anne Gearan write in the Washington Post today, "Sen. Bernie Sanders scored a decisive victory in Tuesday's New Hampshire presidential primary, embarrassing Hillary Clinton in a state she won eight years ago and upending the Democratic nominating contest."
Trip Gabriel writes in the New York Times,
"With Donald J. Trump's decisive victory in New Hampshire and no strong runner-up among a pack of also-rans, the Republican race barreled into South Carolina on Wednesday shadowed by a question: whether any alternative candidate can gain enough support to threaten Mr. Trump's drive to the nomination. Gov. John Kasich of Ohio, the second-place finisher in New Hampshire with less than half the support of Mr. Trump, arrives in this more conservative Southern state where he has little staff or support. Senator Ted Cruz of Texas, resuming an effort here to enlist the Christian right, the key to his victory in Iowa, faces a playing field where evangelical voters are far less monolithic. And former Gov. Jeb Bush, buoyed by outperforming his Florida rival Senator Marco Rubio, has a chance to open more daylight -- but it is unclear if it will be enough to inspire establishment-leaning Republicans to coalesce behind him."
Several campaign events we'll be monitoring for news.
TBA EST -- Sen Sanders has breakfast with Al Sharpton. Harlem, NYC. LIVE STAKEOUT via LiveU
1115EST -- Fmr FL Gov Jeb Bush holds a rally. The Pavillion, Bluffton, SC. LIVE via LiveU
1130EST -- Sen Cruz holds a rally. Ground Zero, Myrtle Beach, SC. LIVE via LiveU
1200EST -- OH Gov Kasich holds a town hall meeting. Finn's Brick Oven, Mt. Pleasant, SC. LIVE via LiveU
1200EST -- Sen Rubio holds a rally. Spartanburg Marriott, Spartanburg, SC. LIVE via LiveU
The next contests are in South Carolina and Nevada.
The Clinton campaign insists it will perform better in both states as it makes a push to shore up support among minority voters specifically African Americans.
The U.S. Senate is expected to vote today on more sanctions against North Korea after it successfully put an object in space using technology that could be used to target the United States with nuclear weapons. Japan announced new sanctions today. South Korea has pulled out of a manufacturing zone it runs with North Korea. The U.N. says North Korea continues to evade sanctions already in place. It's believed the North Koreans could soon test another nuclear device.
Congress also working feverishly on new measures targeting Iran after President Obama signed a nuclear deal with Iran.
This week alone, there are five separate committee meetings that are studying Iran and it's terror ties, and weapons ambitions, and compliance with the nuclear deal terms.
Syria continues to deteriorate. There was a hearing yesterday with U.S. intel officials who testified about the Russian involvement in shoring up dictator Bashir Assad. The Washington Post's Greg Miller writes today, "Russian military intervention in Syria has turned the course of that country's civil war against U.S.-backed rebel groups, increasing the likelihood that Syrian President Bashar al-Assad and his loyalists will remain in power, U.S. intelligence officials testified Tuesday. The assessment amounts to an acknowledgment by U.S. spy agencies that Russian airstrikes have derailed the Obama administration's aims of pushing Assad aside as part of a political settlement to the nearly five-year old conflict."
There's also a hearing today on fighting ISIS. Catherine Herridge is monitoring.
President Obama set to return to Illinois's state house today. He'll give a speech at the Old State Capitol in Springfield.. the place where nine years ago today he announced he was running for President.
The House Financial Services Committee will hear from Fed chair Janet Yellen today as the world economy is wobbling and stocks are falling.
A heat wave in the middle of Winter for California. There had been progress this year toward easing the severe drought, but an extremely hot and dry February putting a damper on the celebrations. Southern California is baking under temperatures in the 80's and 90's. Northern California also dry and much warmer than usual.
Meanwhile on the East Coast, temperatures are plunging with parts of the Northeast to fall below zero this week.
For more news, follow me on Twitter: @ClintPHenderson