Trump labeled 'racist' who supports 'internment camps' in LSAT prep test
President Trump has "racist policies" and backs "internment camps" -- or at least that's what one allegedly reasonable argument used in a graduate school study guide would have readers believe.
The Law School Admission Test prep book, published by Windham Press, includes two questions related to Trump in its most recent guide, as first reported by The College Fix.
The LSAT prep book uses the following statement it says is "encountered on a daily basis through social media, entertainment, and cable news" as a reasonable argument why Trump is "unfit" to be president: "He lacks political experience and backs racist policies, such as internment camps and deportation."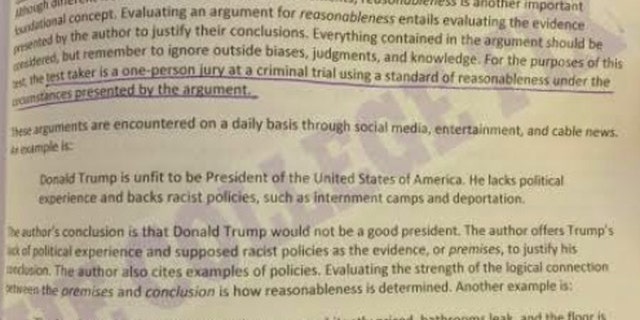 The example reminds test takers that they're encouraged to "ignore outside biases, judgments, and knowledge" as if they are "a one-person jury at a criminal trial using a standard of reasonableness under the circumstances presented by the argument."
"The author's conclusion is that Donald Trump would not be a good president," the test states. "The author offers Trump's lack of political experience and supposed racist policies as the evidence, or premises, to justify his conclusion. The author also cites examples of policies. Evaluating the strength of the logical connection between the premises and conclusion is how reasonableness is determined."
Another example in the test book appeared to refer to the president with the unimaginative pseudonym "Ronald Thump," saying the person's "manipulation of tax and bankruptcy loopholes helped grow his father's fortune."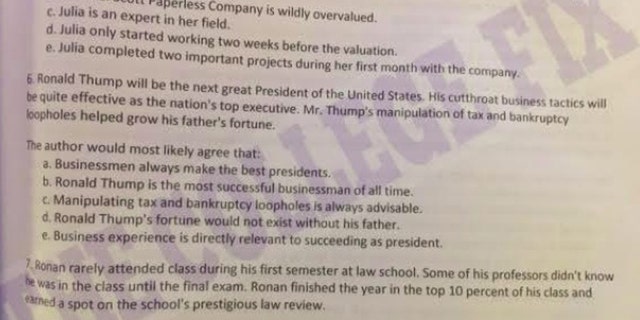 A spokeswoman for the Law School Admission Council, Wendy Margolis, told Fox News that Test Prep Books, which published the controversial examples, is not associated with LSAC, nor do they license official LSAT content.
Margolis said the LSAT is "designed to measure critical thinking skills," adding "topics that might cause a reaction one way or another could interfere with their ability to demonstrate these skills."