Truck carrying candy flips on New Jersey highway in apparent road-rage crash
A tractor-trailer filled with candy overturned and struck the support columns of a bridge during an apparent road rage incident captured earlier this month in New Jersey.
The Mahwah Police Department said in a news release on Tuesday the crash took place just before 10 a.m. on Aug. 9 in the northbound lanes of Route 17 in the township located about 30 miles northwest of New York City.
In the video, taken by another truck's dash camera, an SUV pulls alongside the truck and brakes, preventing the driver from switching into the left lane. As truck tries to swerve around the SUV, the vehicle pulled in front of the truck again and pumped the brakes, causing the truck to swerve, collide with the median and flip over.
"Miraculously, no other vehicles struck the tractor-trailer, which could have resulted in a major accident event," Mahwah Chief of Police James Batelli said in a statement.
CARNIVAL CRUISE'S NEWEST SHIP CRASHES INTO DOCK
The driver of the SUV thought the truck was driving recklessly and merged in front of the vehicle to slow it down, contributing to the crash, according to Batelli.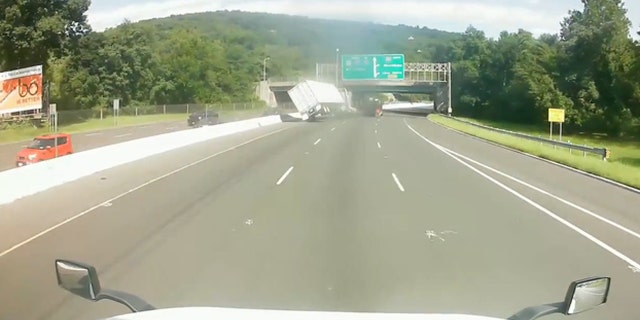 No one was injured in the accident, but police issued summons to both drivers for multiple charges, including reckless driving, failure to maintain lanes and failure to signal.
The release of the video ahead of the busy Labor Day holiday weekend was to highlight the dangers of overly aggressive driving, according to police. Batelli said the video "underscores the dangers of an increasing trend in road rage incidents."