The Latest: Protester: Toppling 'Silent Sam' was 'righteous'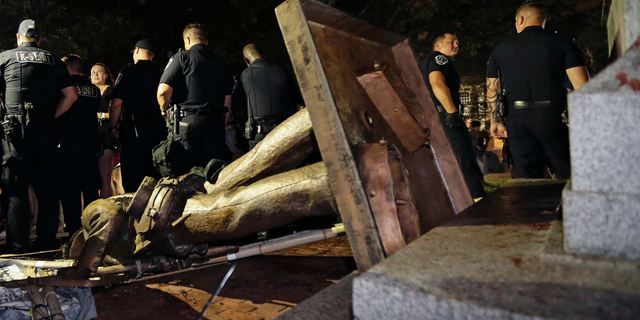 HILLSBOROUGH, N.C. – The Latest on the legal case surrounding the toppling of a Confederate monument at North Carolina's flagship university (all times local):
11:40 a.m.
A protester accused of helping tear down a century-old Confederate monument at the University of North Carolina says the toppling was a "righteous act."
Raul Jimenez had a brief court appearance Thursday in Orange County court on misdemeanor charges of rioting and damaging a public monument. Two others have later court dates on the same charges of helping to topple "Silent Sam."
Jimenez said in an interview afterward that students had asked UNC leaders for a long time to move the statue that they say symbolizes racism. He said the community acted when university leaders wouldn't. He called it a "righteous act of people power."
Asked if he's guilty of pulling the statue down, Jimenez declined to say he did it. He said he and the other protesters charged in the Aug. 20 protest plan to fight the charges.
___
1 a.m.
Publicly released documents show a North Carolina police chief assisting with crowd control told his officers to stand aside as protesters tore down a century-old Confederate monument during a protest at the University of North Carolina.
Text messages and emails obtained through a public records request show Chapel Hill Police Chief Chris Blue closely monitored the Aug. 20 protest as his officers backed up UNC's campus police before protesters tore down the statue known as "Silent Sam."
WRAL-TV was first to report on the documents Wednesday. The 400 pages of emails and texts to and from Blue were later released to other outlets including The Associated Press.
The statue was brought to the ground after several hundred demonstrators gathered, some raising banners to conceal the move.
Messages show that Blue instructed officers "Let's give them lots of space" and "stay way out."