The Latest: Body identified as missing 79-year-old woman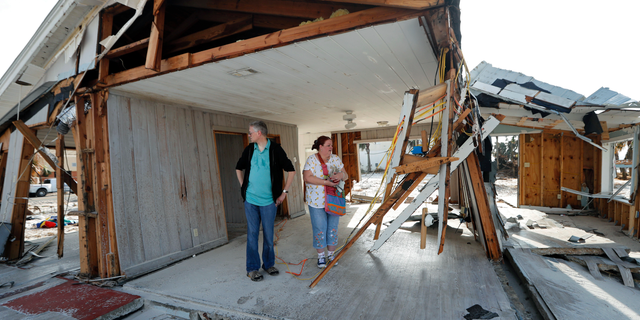 MEXICO BEACH, Fla. – The Latest on Hurricane Michael (all times local):
4:30 p.m.
Officials have confirmed the death of a 79-year-old Florida woman who has been missing since Hurricane Michael left her Mexico Beach home in rubble.
The Bay County medical examiner's office confirmed Friday that Aggie Vicari was the body recovered Monday. Family members say her body had been under rubble for five days before rescuers found her.
Vicari's niece, Joanne Garone Behnke, who lives hours away in South Florida, said the wait has been agonizing. She says her only prayer is that it was a quick, painless death.
Garone Behnke says she spoke to her aunt, whom she affectionately described as a "stubborn Italian woman," just hours before Michael's devastating winds came ashore.
A memorial service will be held next month on the lot where Vicari's home once stood.
___
4 p.m.
Florida's agriculture commissioner says Hurricane Michael has damaged an estimated $1.3 billion of timber across nearly 3 million acres (1.2 million hectares) of forestland in the state's Panhandle.
Commissioner Adam Putnam said in a Friday news release that pulp mills, sawmills and other production facilities also were damaged in 11 of the state's top timber-producing counties.
Putnam called the damage a "catastrophic loss to the forest industry." The commissioner says the department will work with the industry on damage assessments.
Forest Service Director Jim Karels says the downed trees would pose a fire risk once dry, so the agency is working to clear debris and establish fire lines that could help contain forest fire.
___
This item has been corrected to show that the damage estimate is $1.3 billion, not $3 billion.
___
10:45 a.m.
A falling tree has killed a firefighter while he was helping his family clear debris from Hurricane Michael in the Florida Panhandle, increasing the overall storm-related death toll to 35.
Fire coordinator Brad Price, 49, of Wewahitchka was on his tractor when he was killed Thursday, the Gulf County Sheriff's Office said on its official Facebook page.
With Price's death, 25 of the fatalities have been confirmed in Florida. Many of the deaths in the heavily timbered Panhandle were from tree falls, while other bodies have been pulled from homes decimated by hurricane-force winds and storm surge.
The storm also killed 10 people in Georgia, North Carolina and Virginia, where most were caught in flash flooding.
___
12:10 a.m.
For residents of the hurricane-ravaged Florida Panhandle, everyday life is rife with fears, frustrations and the troubles of just trying to get by.
Cellphone service is often spotty, looters can show up at any time and there are long lines to obtain gasoline, water and essentials more than a week after Hurricane Michael slammed into the coast.
Unseasonably warm temperatures in the 80s are adding to the misery because so few people can cool down with air conditioning. Bottled water is plentiful at roadside aid stations; ice is another matter.
Poor cellphone service leaves those most vulnerable with little information to help them get by. Residents in Panama City eagerly ask for tips on finding pharmacies, coin-operated laundries and stores that might sell batteries to power flashlights with fading beams.