The Latest: Baltimore officers visit funeral home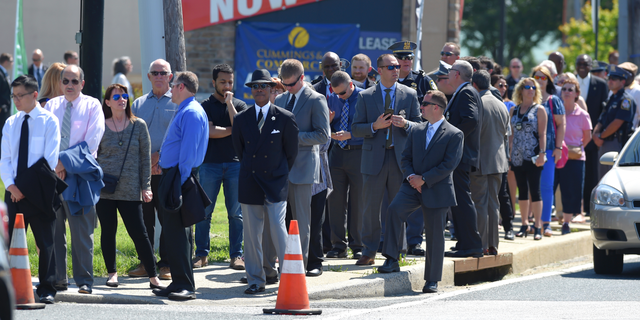 NEWYou can now listen to Fox News articles!
BALTIMORE – The Latest on the killing of Baltimore County Police Officer Amy Caprio (all times local):
6:30 p.m.
Police officers, public officials and others have been visiting a funeral home to honor a colleague killed on duty.
The visitation for Baltimore County Police Officer Amy Caprio was being held Thursday at Schimunek Funeral Home in Nottingham, about a mile from where a Jeep ran her over Monday. Four teenagers are charged in her death.
News outlets reported that people lined up at the funeral home to pay their respects. An auto shop across the street draped a sash over its sign, while an overpass bore blue ribbons.
Caprio's funeral will be Friday in Joppa. The mother of the 29-year-old officer is expected to speak. Caprio will be buried at Dulaney Valley Memorial Gardens in Timonium.
___
4:30 p.m.
A police officer crushed by a stolen Jeep isn't even buried yet, and already authorities in Maryland are blaming each other for having allowed the teenage driver to be on the streets while he awaited sentencing for auto theft.
The state was formally supervising the 16-year-old driver, who is accused of running over Baltimore County officer Amy Caprio on Monday when she approached him outside a home where three teenage accomplices were allegedly committing a burglary.
Dawnta Anthony Harris, a slightly-built ninth-grader, had been assessed to be a high risk by Maryland's juvenile services department. He had a string of arrests for auto theft, and had skipped out of juvenile custody repeatedly. His own mother had asked officials to detain him, hoping to avoid any more trouble.
Despite all this, Harris was transferred from a juvenile facility to house arrest with his mother in West Baltimore, and went AWOL again. A week later, he allegedly killed a police officer.