Texas police officer braves Harvey to save American flag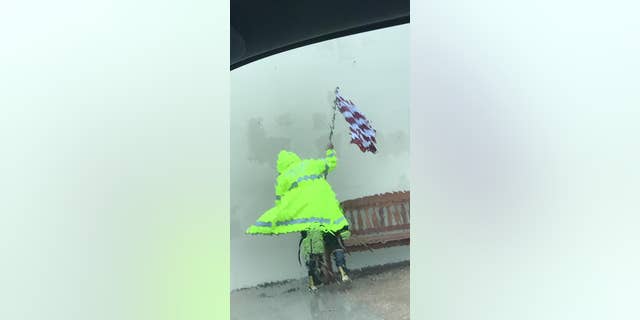 A Texas police officer stopped at nothing to save an American flag as Hurricane Harvey made landfall on Friday.
Aransas Pass Police Department posted on Facebook a photo of Officer Jack McCarty battling the strong winds and rain to take an American flag down before it was whipped away.
"While some dishonor and desecrate her, APPD Ofc. Jack McCarty will stop at nothing to honor and save her. #GodBlessAmerica #HurricaneHarvey," the department wrote on Facebook Friday.
RESIDENTS AT EPICENTER OF HARVEY'S LANDFALL RETURN TO HEARTBREAKING DEVASTATION
Harvey came ashore as a Category 4 hurricane about 30 miles northeast of Corpus Christi, with 130 mph wind gusts. By Saturday, Harvey was downgraded to a tropical storm, but brought more than 20 inches of rain and "catastrophic flooding" to southeastern Texas Sunday morning.
Rising rainwater left residents trapped in their home. Houston Police Chief Art Acevedo told "Fox & Friends Weekend" residents should avoid going to the attics of their homes and head straight to the roofs if water level rises. He added the city's 911 system has been "overwhelmed" with calls.
At least two people have died in connection with Harvey. Houston Police Department confirmed one person died in a vehicle just before 10 p.m. Saturday. Another individual died in a house fire in Rockport as the hurricane made landfall Friday night.
HARVEY CAUSES 'CATASTROPHIC FLOODING' IN HOUSTON
Houses and trailers were found destroyed Saturday in Port Aransas and Rockport, after the worst of the storm had cleared.
"We have a camper that survived it. At least we have something to live in. A lot of people don't," Nancy and George Collins, whose home was destroyed during Harvey, said. "It's everything we had."
Aransas County Independent School District canceled all classes for the next two weeks, the police department announced.
President Trump said on Sunday he will be making a trip to Texas "as soon as that trip can be made without causing disruption."