Texas man plays piano in his flooded home; 'beauty in the suffering'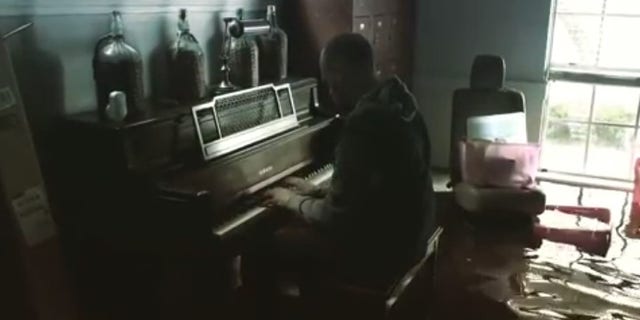 NEWYou can now listen to Fox News articles!
After Harvey's wrath subsided, a Texas man stopped by his flooded home to grab a few things — but not before taking a moment to play his piano and "see the beauty in the suffering."
In a video posted to Instagram, Friendswood resident Aric Harding, took a few moments to play a simple song on his piano, all while sitting in knee-deep water.
Harding, in the post's caption, wrote: "I went back to our street today because as you guys have probably seen the water has come back with a vengeance. I hope this was its high point," he said, before adding he stopped home in Friendswood to pick up some of his kids' favorite toys to keep them occupied.
"I think it's all finally sinking in a little," the post continued. "What we used to have going as a city is gone," the post continued.
TROPICAL STORM HARVEY REPORTER'S NOTEBOOK: GETTING BACK TO NORMAL, SLOWLY
As a man of faith, Harding said he believes "God is going to do something completely new here. I am excited to see the new beauty in the suffering," before quoting a Bible passage from the book of Romans.
Harding told the Star-Telegram that the water in his home receded Wednesday morning, and that, with help from his church, the clean-up process at his house has started.
Coastal town Friendswood, around 40 minutes south of Houston, was hit particularly hard on Saturday night when Harvey made landfall, but Harding told the Telegram the town is eager to help in the aftermath.
"The whole town is buzzing with people helping each other," he said.