Texas man arrested in nephew's cold case murder 37 years later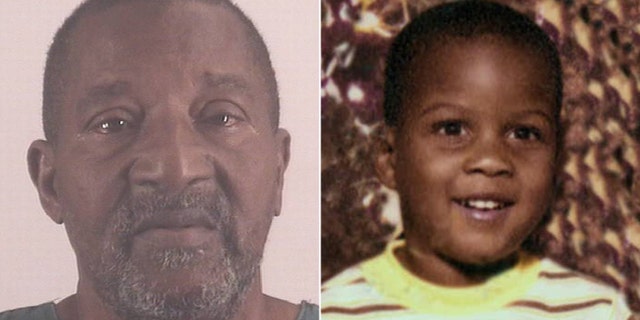 A man who reported that his nephew was missing during a trip to a Texas convenience store in 1981 was charged with the boy's murder Monday, police said.
Terry Lee Woodson, 64, told police he beat Anthony Tyrone "Burt" Woodson, 5, to death on Aug. 29, 1981, Lt. Michael Midkiff, a spokesperson for the Mansfield Police Department, told Dallas News.
Woodson "used an electrical cord or other unknown object" to beat the boy while "disciplining" him, the paper reported, citing court documents.
Woodson was arrested on Aug. 16 on a murder warrant and placed in the Tarrant County Jail with a bail set at $200,000. The boy's remains have not been found, police said.
MYSTERY AS WOMAN IN T-SHIRT AND POSSIBLY SHACKLES APPEARS ON TEXAS HOMEOWNER'S DOORSTEP
Anthony's mother gave his grandmother custody of the child and the boy was sent to live with his uncle after his grandmother's eyesight started to worsen. The boy's parents were going through a divorce when the mother gave custody of her son to the grandmother.
The young boy was reported missing from a 7-Eleven convenience store in Mansfield around 3:30 a.m.
At the time, Woodson told authorities he took his nephew to the store with him to buy a drink because he did not want to leave him behind with his wife who was sleeping. Woodson said the boy fell asleep during the car ride and he did not realize the boy was missing until he got home, the Star-Telegram reported.
He told police he saw another car pull up at the 7-Eleven at the time, but could not describe what the driver looked like. Police and volunteers conducted a search party to look for the boy, but were not successful.
MODEL CHARGED AFTER HOMELESS MAN BEATING CAPTURED IN SURVEILLANCE VIDEO
The case was reopened in May 2017 by the Mansfield Police Department after it was determined the child wasn't taken from his uncle's car.
"As the cold case investigation progressed, it was revealed that Anthony was not kidnapped out of his uncle's vehicle," police said in a news release. "Numerous interviews with the uncle, Terry Lee Woodson, revealed that Anthony was in fact beaten to death at the hands of Terry Woodson during the course of 'discipline.'"
Police have asked anyone with information to come forward regarding the missing boy and the location of his remains.