Terror Warnings and Red Flags Ignored or Downplayed in Years Before Brussels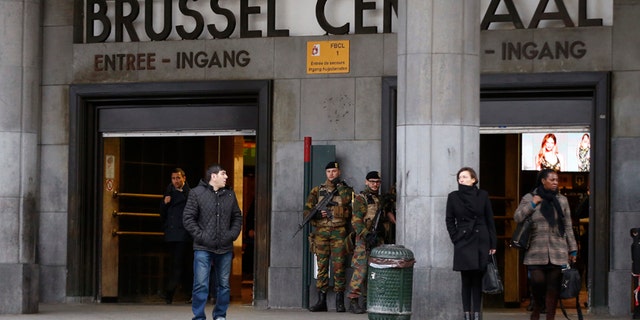 An EgyptAir flight was hijacked and landed in Cyprus from Egypt. It appears to be over now with all crew and passengers released unharmed, and the man arrested.
President Obama met with his national security team yesterday about the terror threat. They say there's no credible threat of a Brussels style terror attack here in the U.S. 35 are dead and more than 200 injured after coordinated terror attacks a week ago today.
A man who had been detained by Brussels police as a suspect in the terror has been released by a judge who said there's no evidence to hold him. Police are still looking for a third suspect in the bombing of the Brussels airport. The airport still hasn't resumed passenger service.
The New York Times reports today that ISIS sent operatives to Europe long before the Paris and Brussels terror attack that left nearly 200 dead. Officials tell the Times signs of the ISIS preparations were obvious as soon as 2014.. or should have been. Local officials repeatedly downplayed previous terrorism cases as isolated or played them down.
The mayor of Brussels says he hopes and believes that major terror rings have been disrupted in the wake of the attacks, but admitted there were major security failures. Not very reassuring.
The U.S. government was able to unlock the iPhone belonging to the San Bernardino terrorists Syed Rizwan Farook without the help of Apple.. ending a legal battle between the U.S. and Apple, but leaving many questions about national security.
U.S. capitol police shot and wounded a man after he appeared to pull a weapon at a security checkpoint. He has a history of mental instability.
The Washington Post today writes about Sanders chances after he beat Hillary Clinton in several Democratic caucuses over the weekend, "Although Clinton remains the overwhelming front-runner to win the Democratic nomination, the results give Sanders a rationale to continue fighting through July and underscore lingering unease among base voters about the woman who will almost certainly be their standard-bearer in the fall."
Still others consider Sanders latest argument that he can win if he can convince Super Delegates to switch their votes is being met with skepticism. Here's how the Los Angeles Times put it today, "As the Bernie Sanders campaign accepts the reality that securing enough votes at this point to win the Democratic nomination outright is impossible, it has moved on to a new phase in its long-shot bid for the White House: hijack Hillary Clinton's so-called superdelegates."
His campaign manager's claim yesterday that Sanders has only lost several big primaries on Super Tuesday because he didn't compete was met with laughter from analysts.
The coming primaries favor Clinton. Only two caucuses remain (North Dakota and Wyoming). Sanders has performed well in caucuses, but has been handily beaten by Clinton in most primary elections.
Here's James Hohmann in the Post, "Sanders reiterated Sunday that he will not go quietly. Chuck Todd noted on NBC's "Meet the Press" that Sanders used to chastise his crowds whenever they booed Clinton. But the last time he did that was Feb. 23. Asked why, Sanders said "No reason at all" before launching into an extended broadside against Clinton, from Iraq to Wall Street to fracking to campaign finance. Then he challenged Clinton to an additional debate."
The Wall Street Journal reporting today on Hillary Clinton's advanced ground game. She appears to have an advantage in that arena over GOP front-runner Donald Trump.
Bill McGurn writes in the Wall Street Journal today about how Hillary Clinton could be beat by Donald Trump, "Sure, it's possible the GOP front-runner will implode, just as it's possible all those polls showing Mrs. Clinton with a double-digit lead over Mr. Trump will indeed come to pass. But some of us who never thought he would get this far are a little more reluctant to be so categorical about an election that is still seven months away."
But the New York Times reporter Alexander Burns writes today on the possibility of Trump hurting fellow Republicans down ticket if he gets the nomination:
Donald J. Trump's dominance in the Republican primary is upending the campaign for control of Congress, as Republican lawmakers seek to distance themselves from him while Democrats seize on the chance to run against a candidate who has offended huge sections of the American electorate.
Nominating Mr. Trump could create a political battlefield of extraordinary breadth and volatility. Polling shows that he would enter the general election trailing badly against Hillary Clinton, and he has become deeply unpopular outside of his white, heavily male political base.
While Mr. Trump would most likely draw throngs of white, working-class voters in Democratic-leaning states like Michigan and Ohio, he would also drive away women, nonwhites and voters with college degrees in conservative-leaning states like Georgia and North Carolina.
Wisconsin Governor and former presidential candidate Scott Walker set to endorse Ted Cruz today.
Donald Trump rolls into Wisconsin today which votes a week from today in the next big primary. Trump is campaigning in Paul Ryan congressional district in what may be a provocation against the Speaker of the House for comments he's made that are critical of Mister Trump.
1000ET - Cruz rally, Sharon Lynne Wilson Center for the Arts - 19805 West Capitol Drive, Brookfield, WI... FNC LiveU
1230ET - Kasich Town Hall, Weldall Manufacturing, Inc, 2001 South Prairie Ave., Waukesha, WI FNC LiveU
1045ET - HRC gun violence forum, Tabernacle Community Baptist Church, 2500 West Medford Avenue, Milwaukee, WI...POOL LIVE
1330ET - Sanders town hall, Fox Cities Performing Arts Center, 400 W College Ave, Appleton, WI FNC LiveU
North Korea test-fired another missile today as it continues its aggression threatening South Korea and the U.S. The dictatorship tested a fourth nuclear weapon in January. President Obama will meet with the leaders of Japan and South Korea this week to discuss the increasingly aggressive North Korean.
Yahoo has put itself up for sale.
JetBlue and Alaska Air reportedly set to submit bids for Virgin America in yet more consolidation in the airline industry.
Alaska has delayed or cancelled lots of flights after a volcano erupted yesterday. Things have calmed but smoke still coming from eruption of the Pavlov Volcano and an ash cloud has stretched more than 400 miles inside Alaska.
For more news, follow me on Twitter: @ClintPHenderson