Terminally ill Army combat veteran says VA abandoned him
NEWYou can now listen to Fox News articles!
Highly decorated Army combat veteran John Marshall traces his terminal cancer to hours spent over burn pits in Iraq, where everything from disabled IEDs to lithium batteries was reduced to cinder and smoke.
Now back home in the Phoenix suburb of Surprise, Ariz., the 31-year-old former sergeant is facing death and is claiming the VA is AWOL.

"It's all just a big slap in the face," Marshall told FoxNews.com. "I tried to be the perfect soldier. I did everything I was told, and now they just forced my claim through and denied coverage and my benefits."
"I tried to be the perfect soldier. I did everything I was told, and now they just forced my claim through and denied coverage..."
VA officials did not immediately return requests for comment. Marshall said agency officials don't believe his cancer has anything to do with his service to the nation, and that he missed mandatory appointments last year while he was hospitalized with pneumonia and battling post-traumatic stress disorder.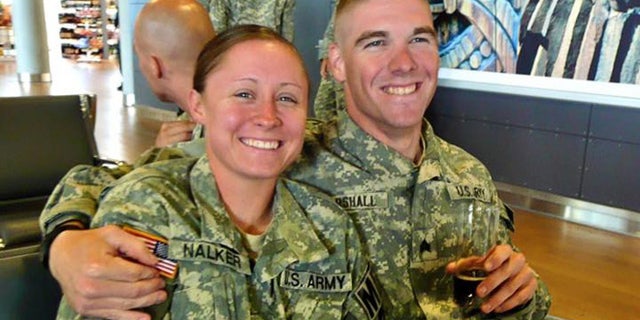 Terrified of leaving his wife and two young children destitute because of the cost of treatment that can only delay the inevitable, Marshall and his supporters are raising money online to cover the growing cost of his medical bills.
"My prayers are with you and your family," wrote one donor who pledged $25.
Another donation, for $250, came with no name or message.
"The support for my husband is so heartwarming and beyond what I ever thought would happen when this journey started," Ashley Marshall wrote on the site.
Marshall believes he could have provided evidence VA doctors needed to link his illness to his time in Iraq if he hadn't been laid up with pneumonia in January 2015. He still could, he said, but now they won't listen.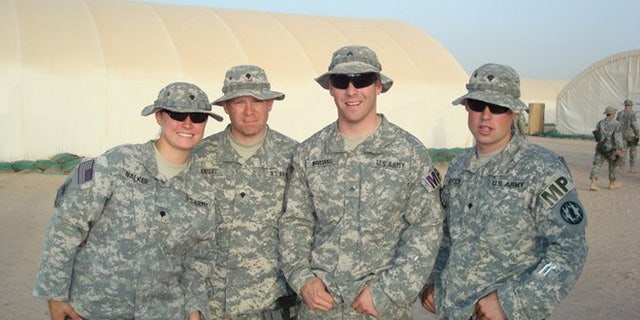 "They said I was denied because I didn't have enough evidence," he said. "They forced my claims through. They denied everything.
"They even told me that there was no service-connected reason for my illness," he said.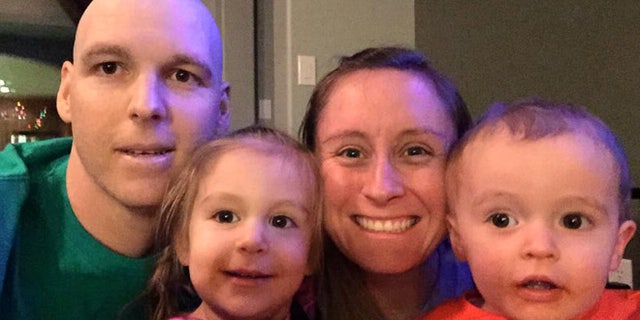 A Veterans Affairs spokesperson contacted by FoxNews.com said the agency could take a fresh look at Marshall's case, and hopes to speak with him soon.
"Foremost, we would want to look into what happened to understand the details in this particular case and see how we can help," said VA spokeswoman Ndidi Mojay.

Marshall has no doubt that the soft tissue sarcoma he was diagnosed with 14 months ago is a result of his work on Improvised Explosive Device Disposal (IEDD) units.
"During my second tour, we were providing security for the EOD [Explosive Ordnance Disposal] guys," he said. "We didn't know what we were blowing up, so it's possible that there we were exposed to something toxic. We stood over open burn pits."
An October 2013 report from the United States Government Accountability Office identified open burn pits as the likely cause of long-term health issues for many veterans returning from service in the Middle East.
"The U.S. military returning from Iraq and Afghanistan may be suffering chronic, long-term health issues as a result of exposure to toxic fumes from open burn pits," reads the report. "Defense contractors have used burn pits at the majority of U.S. military bases in the Middle East as a method of military waste disposal. All kinds of toxic waste have been incinerated in these open burn pits, including human waste, plastics, hazardous medical waste, lithium batteries, tires, hydraulic fluids and vehicles -- often using jet fuel as an accelerant."
Marshall and his wife Ashley, who also served in the Army, have turned to private health care. Thanks to the support of friends and strangers, they have successfully raised about $24,000 toward their estimated cost of $30,000.
"He is stressing out," Ashley Marshall said. "He's more worried about me and our kids.
"There are good days and bad days for us, but I worry about his mental state."
Ashley Marshall, who fell in love with her husband while serving with him, said he is not the type of man a proud nation should turn its back on.
"He's the all-American soldier," she said.