Teen Convicted of Manslaughter in N.Y. Hate Crime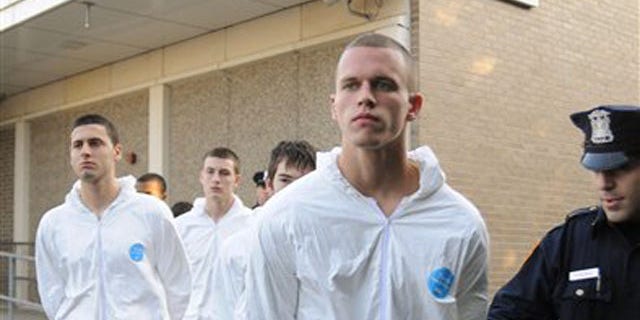 NEWYou can now listen to Fox News articles!
RIVERHEAD, N.Y. (AP) -- A former high school athlete who plunged a knife into the chest of an Ecuadorean immigrant during a street fight that cast a national spotlight on hate crimes against Hispanics was convicted of manslaughter as a hate crime Monday but acquitted of murder.
Jeffrey Conroy, 19, was one of seven teenagers implicated in the November 2008 stabbing death of Marcelo Lucero in what prosecutors say was the culmination of an ongoing campaign of violence targeting Hispanics. The teens alluded to "beaner-hopping" or "Mexican hopping."
Four others have pleaded guilty to hate crime-related charges; two are awaiting trial.
Conroy was the only one of the seven charged with murder and manslaughter; prosecutors said he was the one who inflicted the fatal wound in a midnight fight near the Patchogue train station. He faces eight to 25 years in prison when he is sentenced on May 26.
The killing sent shock waves far beyond Long Island's Suffolk County, where animosity over the influx of thousands of immigrants from Central and South America has been on the rise for nearly a decade.
Latino Justice-PRLDEF repeatedly lobbied for a federal investigation of hate crimes on Long Island following the killing. The U.S. Department of Justice announced last fall it would investigate hate crimes and the police response to such cases.
Conroy, a three-sport athlete at Patchogue-Medford High School, admitted to police he was responsible for the stabbing but took the witness stand to say he had taken the blame for one of his co-defendants -- a teenager he had just met earlier that night.
Lucero, 37, was walking with a friend when they were confronted by the teenagers. Prosecutors say the teens were walking around town looking for targets, began yelling ethnic slurs and approached the two men. One of the teens punched Lucero in the face. Within moments, Lucero and his friend were swinging their belts in self-defense and began to pursue the teens to a parking lot.
Prosecutors said that when Lucero hit Conroy in the head with the belt, the teen lost his temper, opened the folding knife and ran toward Lucero, lunging at Lucero's chest.
Conroy, who has been held without bail since his arrest the night of the killing, testified that co-defendant Christopher Overton told him he had stabbed Lucero. He said Overton had told him earlier in the night that he had a burglary conviction in a case where the homeowner was killed and could not afford further trouble with the police.
Overton has pleaded not guilty in the Lucero killing and is awaiting sentencing after pleading guilty to burglary in a 2007 home invasion. His attorney has derided Conroy's claims as scapegoating by someone facing a long prison term.
Conroy also explained that he allowed a friend to place a swastika tattoo on his upper thigh, saying he had done it on a dare. An acquaintance of Conroy's testified earlier in the trial that he had told her a lightning bolt tattoo on his arm was intended to symbolize "white power."
Many Hispanics attacked in the days before Lucero's killing were afraid to report the crimes to police, fearing questions about their immigration status, prosecutors said. A September 2009 report by the Southern Poverty Law Center, a national civil rights organization, included the Lucero killing in its decade-long timeline documenting anti-immigrant attacks throughout the country.
Ecuador's ambassador in Washington, Luis Gallegos, said in a statement before the verdict was announced that he hoped an appropriate punishment would be meted out to set an example to others.
"What concerns us in the United States are crimes of hatred and xenophobia, obviously linked to racism," he said in a telephone interview with The Associated Press. "And we believe that in the trial of Mr. Lucero, there must be a sentence of the greatest severity so that this kind of crime is not repeated."
The trial was being followed by many in Ecuador.
"We Hispanics are so unsafe when we go elsewhere, and let's hope that everyone involved in that group that mistreats Hispanics is punished," said Nimia Villacreces, a 33-year-old auditor.
Mauricio Trujillo, a 42-year-old lawyer, added: "It's not enough to punish just one youth, because various people were implicated."
After the Lucero killing, Suffolk Police assigned an Ecuadorean born officer to work as a liaison between police and the Hispanic community in Patchogue. Some Hispanics in the community say conditions have improved, but advocates have held several press conferences during the trial, contending much work still needs to be done to ease fears.