Tattooed, shirtless looters arrested for stealing power pole as police turn up the heat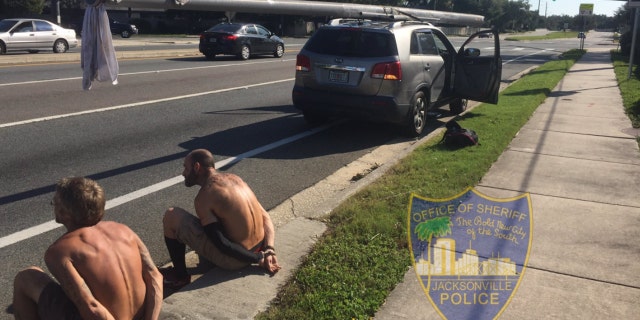 Two men were arrested Wednesday after an officer found a utility pole strapped to the top of a vehicle in Jacksonville, days after Hurricane Irma spawned severe flooding in the city, as cops across the Sunshine State work overtime to nab thieves impeding recovery efforts.
The Jacksonville Sheriff's Office tweeted a picture of the shirtless men sitting handcuffed on the sidewalk.
"These two were caught stealing a JEA pole just this morning! Citizens watching out and officers cleaning up = partnership! #Irma #JSO," the sheriff's office wrote.
The arrest came even as Florida officials work feverishly to restore power statewide. As of Thursday morning, 2.6 million customers, roughly 25 percent of the state, were still without power -- down from 15 million people only two days ago.
Police said 42-year-old Blake Lee Waller and 46-year-old Victor Walter Apeler were arrested on grand theft charges after someone reported seeing them load the pole onto a sports utility vehicle.
MIAMI POLICE RAMP UP PATROLS TO COMBAT LOOTING
A police report obtained by the Associated Press said an officer noticed a light pole missing from an area on top of a bridge. He later spotted a vehicle driving with the pole on top, stopped the vehicle and arrested the men.
Apeler told investigators he was moving the pole because it was on the ground close to traffic lanes, according to the report.
A database search found Apeler had 72 scrap metal-related transactions for recycling since January.
The arrests in Jacksonville came as Miami police ramped up patrols in city streets to crack down on looting after Irma.
More than 50 suspected looters were arrested during Hurricane Irma, with 26 of them accused of breaking into the same Walmart store on the north side of Miami, Reuters reported. Miami Deputy Chief Luis Cabrera issued a stern warning to would-be looters as officers began their 12-hour shifts.
"I said we would not tolerate criminal activity or looting or anybody who takes advantage of our residents," Cabrera said at a news conference Tuesday. "I was not joking."
Other police departments across the state have also taken to Twitter to warn against criminal activity.
The Associated Press contributed to this report.