Taliban offer gives hope to Idaho POW rally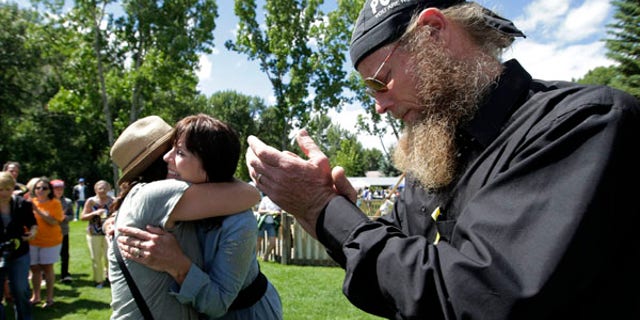 HAILEY, Idaho – The tearful mother of the only known U.S. prisoner of war said Saturday she's feeling "very optimistic" about his eventual release after his Taliban captors offered last week to exchange him for prisoners at Guantanamo Bay.
U.S. Army Sgt. Bowe Bergdahl's mother, Jani Bergdahl, spoke to about 2,000 people gathered in Hailey, his hometown, in a city park where he played as a toddler and little boy.
About 400 in the crowd arrived astride motorcycles, adorned in leather and patches commemorating America's military missing in action.
Bowe Bergdahl, 27, was taken prisoner in Afghanistan on June 30, 2009. First Jani Bergdahl, then his father, Bob Bergdahl, who accompanied the motorcycle procession on his son's 1978 dirt bike, spoke for a combined 15 minutes about rejuvenated hopes that their son's now-four-year ordeal will soon come to a joyful close.
"We are feeling very optimistic this week," his mother, before addressing her son directly. "Bowe, we love you, we support you, and are eagerly awaiting your return home. I love you my son, as I have, from the first moment I heard of you, the never-ending, unconditional love a mother has for her child."
Buses also brought POW-MIA activists to the event from as far as Elko, Nev., some 230 miles to the south.
Though yellow ribbons on Main Street trees and "Bring Bowe Home" placards in Hailey shop windows are a constant reminder of the 27-year-old Bergdahl's captivity, organizers of the event said the Taliban offer has lent an addition element of urgency — and hope — to Saturday's gathering.
Many in the crowd said they were Vietnam veterans; some of them supported the proposed prisoner exchange without reservation.
"Give them their guys and get our guy home," said David Blunt, of Elko, Nev., who said he served in the U.S. Army in Vietnam as a medic. "Bring our guy home. He's suffered enough."
Bergdahl is believed held somewhere in Pakistan, but the Taliban said they would free him in exchange for five of their most senior operatives at Guantanamo Bay, the American installation on the southeastern tip of Cuba that's housed suspected terrorists following the Sept. 11 attacks.
The militant group's exchange proposition came just days ahead of possible talks between a U.S. delegation and Taliban members.
Bergdahl's father, Bob Bergdahl, urged those gathered at Hailey's Hop Porter Park to remember everyone, regardless of nationality, who had suffered during the 12-year conflict in Afghanistan that began following the Sept. 11 attacks.
He described his son as "part of the peace process."
"I wish she was the only mother that was suffering in that way," Bob Bergdahl said of his wife. "Mothers all over the world are suffering because of this war, and I don't forget that for even one day."
He addressed his son's captors in Pashto, the Afghan language he's learned since Bowe Bergdahl went missing.
Bob Bergdahl, who has grown a beard and wore all black at Saturday's event, said that while he is physically in Idaho, he's living vicariously through his son, having set his cell phone to Afghan time, in a bid to share as much as he can his son's experience in exile.
Both mother and father talked of Bergdahl as an adventurer, a young man who once helped crew a sailboat through the Panama Canal, disembarked in San Francisco and then rode a bicycle south along the Pacific Ocean to meet family in Santa Barbara, Calif., 350 miles away.
He joined the military at 22 because "he honestly thought he could help the people of Afghanistan," Bob Bergdahl said.
On June 6, the family said it received its first letter from their son in his handwriting in four years, ferried through the International Committee of the Red Cross.
The circumstances of his capture aren't completely clear, though U.S. officials on July 2, 2009, told The Associated Press a soldier had been taken after walking off his base following his duty shift. For some of the motorcycle riders who participated Saturday, those details are something to be sifted through later, after Bergdahl is safely in the arms of his family.
"He didn't go over there on his own," said Randy Danner, a former U.S. Air Force member from Mountain Home, who rode his motorbike to Hailey with a group called the Green Knights. "No matter the circumstances, for our men and women over there who have put themselves in harm's way, we have a duty to support them in any way we can."