Suspect sought in New Mexico jewel heist robbed another store in same plaza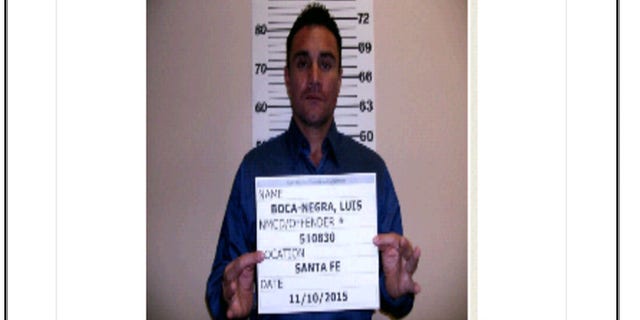 The main suspect in a million-dollar jewelry heist at a New Mexico store was serving probation for stealing a $34,000 ring from another gallery about a block away the year before, authorities said Friday.
Santa Fe police fear Luis Villalba Boca-Negra, 45, may have left New Mexico. He has emerged as the prime suspect after more than $1 million in jewelry was stolen from Diva Diamonds & Jewels on Nov. 27 as crows gathered for a holiday tree-lighting ceremony outside Santa Fe's historic plaza.
A Santa Fe judged issued a warrant for Boca-Negra's arrest on Thursday, setting bail at $500,000 if captured and charged.
Boca-Negra emerged as a suspect based on surveillance video taken from the store and his prior guilty plea for larceny in the other theft last year, Santa Fe Police Lt. Michele Williams said.
Boca-Negra posed for a probation identification picture Nov. 10 — an image now attached to wanted fliers. Police say that was the same day that a surveillance camera recorded the suspect snooping around Diva Diamonds & Jewels on the Santa Fe plaza.
Weeks later, on Black Friday, eleven items of jewelry were taken from an unlocked glass case while staff attended to customers in the store.
Video also shows that two others may have participated in the heist, according to police. Williams declined to say whether those people had been questioned. No other arrest warrants have been issued.
Boca-Negra was arrested last year in Boca Raton, Florida, where police found him wearing a ring stolen from Santa Fe Goldworks, a store located just off the Santa Fe plaza. Valuable jewels had been stripped from the ring.
Boca-Negra was returned to New Mexico to be charged with larceny and conspiracy to commit larceny, court records indicate. The conspiracy charge was dropped, while Boca-Negra pleaded guilty to larceny and was released on probation in August of this year.
Williams said police have distributed the arrest warrant nationwide and were contacting specific law enforcement agencies. Authorities also were exploring several possible aliases, but Williams declined to describe the search in more detail.
The Santa Fe plaza dates back to New Mexico's Spanish colonial era in the 1600s and remains a popular venue for performances, markets and holiday festivals. Galleries, museums and restaurants line the plaza and surrounding streets.
The Associated Press contributed to this report.