Suspect sought after civilian worker killed in shooting at Fort Knox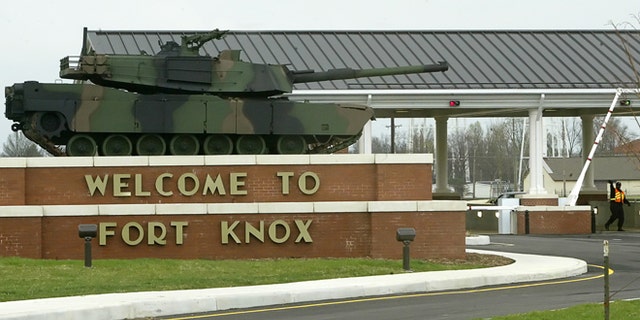 An Army civilian employee was killed in a shooting Wednesday afternoon in a parking lot outside Fort Knox's Human Resources Command headquarters in Kentucky.
The victim, a human resources employee, was transported by ambulance to Ireland Army Community Hospital, where he was pronounced dead, the Army said Wednesday night in a news release.
"Special agents from the U.S. Army Criminal Investigation Command are investigating a personal incident and not a random act of violence," Command spokesman Chris Grey said.
The victim's name is being withheld until 24 hours after the family is notified, the Army said.
Police were seeking to speak with a person of interest in the case. The news release identified him as a 5-foot, 9-inch black man who is American and is believed to be using a black Yamaha motorcycle for transportation.
According to WDRB.com, civilian law enforcement sources off the post said they were asked by military police to be on the lookout for a suspect in the case.
Late Wednesday, police in nearby Radcliff towed a tan colored Dodge Ram pickup from a home, the station reported.
A police spokesman confirmed to WDRB.com that the investigation at the residence was related to the shooting.
As a security measure, the post's gates were locked down at about 5:50 p.m. About an hour later, the main gate was fully reopened, but due to enhanced security measures, those coming and going were advised to expect delays.
Fort Knox spokesman Kyle Hodges said late Wednesday that the post remained on a heightened security alert, but said officials don't believe the person of interest was still on post.
He said he could not comment on whether the victim was targeted, or whether the shooting may have been related to his work. He also couldn't say what type of weapon was used.
The FBI dispatched two agents to Fort Knox and is assisting in the investigation, said Mary Trotman, a spokeswoman for the FBI in Louisville.
The Associated Press contributed to this report.