Suspect pleads not guilty in New York City terror pipe-bomb plot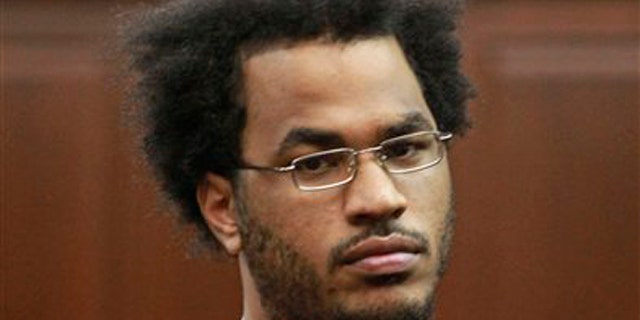 NEWYou can now listen to Fox News articles!
NEW YORK – A man charged with plotting to attack police and soldiers with homemade bombs pleaded not guilty Tuesday to rarely used state-level terrorism charges.
Jose Pimentel nearly whispered "not guilty" in a case authorities describe as bringing down an overt Al Qaeda sympathizer who was building a pipe bomb to act on his violent beliefs, but his lawyers call an example of police overreaching.
"We think that when a jury hears both sides of this case, they'll see it for what it really is," one of his lawyers, Susan J. Walsh, said as she left court.
A Dominican-born Muslim convert also known as Muhammad Yusuf, Pimentel had a website detailing his belief in jihad, or holy war, and said he believed Muslims were obligated to attack Americans as retailiation for U.S. military action in Muslim countries, authorities said.
Pimentel told an informant he wanted to attack targets that included police cars and stations, post offices and soldiers returning home from abroad, authorities said. He was arrested while making his homemade bomb in November, according to prosecutors and police.
"Jose Pimentel engaged in a plot to build improvised explosive devices and use them to commit acts of violent jihad," crossing a line between rhetoric and trying to take action, Manhattan District Attorney Cyrus R. Vance Jr. said in a statement after Pimentel was indicted last month on charges including weapons possession and conspiracy as terror crimes. Both carry the possibility of up to life in prison if Pimentel, 27, is convicted.
The terrorism charges stem from a state law passed shortly after the Sept. 11 attacks. Most terrorism cases are federal, and the state law has been used only a handful of times, including in another Manhattan case against two men charged with plotting to attack synagogues.
Police Commissioner Raymond Kelly has said federal authorities were apprised of the investigation into Pimentel, but circumstances ultimately compelled investigators to act fast and use state charges.
Two law enforcement officials, however, have said the FBI stayed out of the case because agents felt he wasn't inclined or able to act without the informant's involvement. The officials spoke to The Associated Press on condition of anonymity because they weren't authorized to discuss the case.
Pimentel's lawyers have said he was broke, lonely and curious -- "prime pickings" for an informant out to help himself with his own legal trouble, they said.
A person familiar with the matter has said the informant's case was a minor marijuana arrest; the person spoke to the AP on condition of anonymity because the information hasn't officially been made public.